Sponsored Links
The Chief of Staff of the Army, General Raymond Odierno announced the closure of two Texas Brigade Combat Teams today.  They include the 3rd Brigade Combat Team (BCT), 1st Armored Division, Fort Bliss, Texas, and the 4th BCT, 1st Cavalry Division, Fort Hood, Texas.  Fort Bliss is located just outside of El Paso and Fort Hood is located almost half way between Austin and Waco.  Both areas have fairly robust economies; however, the locals will feel a punch in the arm as the customers these soldiers once brought in begin to disappear.  The good news is that most soldiers will most assuredly be spending less time in Afghanistan which should soften the blow to local communities as they spend more time at home.  In total, the Army had to reduce the Army from 540,000 down to 490,000.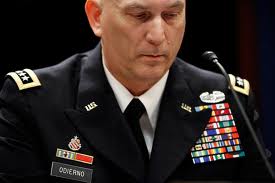 The announcement came after months of deliberation and planning; culminating in the announcement today.  These cuts were planned prior to sequestration; and unless the Army can resource those cuts in other programs, they will most certainly be forced to shrink Army end strength even more.
Civilian cuts have already been taken across the Army, and the general consensus was there isn't much more to be had in terms of cutting more civilians.  This leaves contracts, building repairs, R&D, as well as production accounts under the microscope for potential sequester cuts.
Tex.Org would like to applaud Army leadership for the deliberate planning that was done to shrink our Army.  It's a testament to American leadership in action!
Photo courtesy of Zimbio.Com
News Source:  Pentagon Channel "Live Stream" PentagonChannel.Mil
Sponsored Links