Sponsored Links
If you're a bird watcher and you happen to be around the Big Bend area of Texas, you're in for an incredible treat!

The Big Bend National Park is a premium site for some of the rarest birds in the country.

Some of these birds are on the endangered species list and find sanctuary in this national treasure.

There are literally dozens of sites to choose from.
Some of the best known sites include:
Rio Grande Valley

Sam Nail Ranch
Chisos Basin
Castolon which is near Santa Elena Canyon if you're having trouble finding it on the map.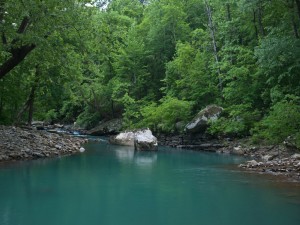 If you're willing to make the trek, you'll be exposed to a number of different bird species.  Some of the most popular exotic birds include:
Peregrine Falcons

Colima Warbler
Golden Eagles
Cactus Wrens
Ravens
Mexican Jays
Road Runners
Acorn Woodpeckers
Canyon Towhees
A variety of Warblers
Hummingbirds
The Peregrine Falcon At Big Bend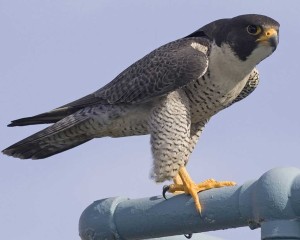 Of all the above bird species, perhaps the most sought after (and illusive) by ornithologists is the Peregrine Falcon (sometimes referred to as the "duck hawk.")  There are approximately a dozen or so known nests in and around the park, and they seem to be expanding somewhat as they've found a safe-haven in the Big Bend area.  These birds are an interesting species as a male and female pair tend to mate for life.  Part of the courtship ritual involves the male catching its prey and then passing it to the female in mid air.  The female actually flies upside down to receive the male's gift of food; which, most of the time is another bird the male has managed to harvest.  Big Bend bird watchers have actually witnessed this event and some have gotten video footage displaying this event.
The Colima Warbler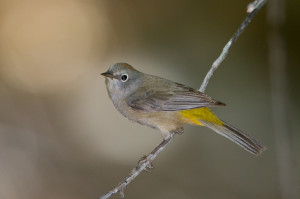 This bird makes its home in central Mexico, but can be seen in the Chisos Mountains of Big Bend…  It likes to build its nest within the mountainside rock and almost never nests in trees.  It's very careful to blend the nest into the rock to ensure predators don't raid their precious offspring eggs.  The Colima is very protective over its younglings and will defend its home to the bitter end. This is a beautiful species and well worth the trip if you can capture a photo of them.
Big Bend Bird Watcher Tour Guides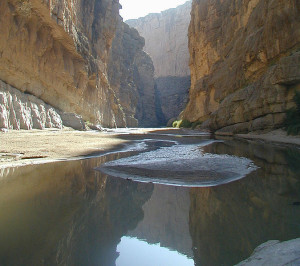 There's a group in Big Bend who offer bird watching tours; and there excursions are quite fun and entertaining.  The groups name is "Big Bend Birding Expeditions" and they can be reached at 432-371-2356, or you can call them toll free at 888-531-2223.   They are located in Terlingua and offer trips along the Rio Grande and throughout the Big Bend Park.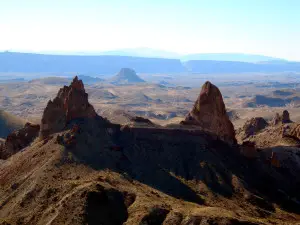 There is a place in Far West Texas where night skies are dark as coal and rivers carve temple-like canyons in ancient limestone. Here, at the end of the road, hundreds of bird species take refuge in a solitary mountain range surrounded by weather-beaten desert. Tenacious cactus bloom in sublime southwestern sun, and diversity of species is the best in the country. This magical place is Big Bend.
A GEOLOGIC TREASURE
That portion of the earth's surface known as the Big Bend has often been described as a geologist's paradise. In part this is due to the sparse vegetation of the region, which allows the various strata to be easily observed and studied. The abundance, diversity and complexity of visible rock outcrops is staggering, especially to first-time observers. From 500 million year old rocks at Persimmon Gap to modern-day windblown sand dunes at Boquillas Canyon, geologic formations in Big Bend demonstrate amazingly diverse depositional styles over a vast interval of time.
BIRD WATCHING & HIKER'S PARADISE
Big Bend's location, near the 100th meridian in the middle of the continent and along a migration route, is ideal for bird diversity throughout the year. Northern species migrate here for the warm winter climate, while birds from the tropics range this far north to breed in the spring. One of Big Bend's highlights, the Colima warbler, is found exclusively in the United States in the Chisos Mountains of Big Bend National Park from April to September.
Big Bend is a hiker's bliss with more than 150 miles of fabulous trails in the largest expanse of road-less public lands in Texas. Elevations range from 1,800 feet along the Rio Grande to 7,832 feet on Emory Peak in the Chisos Mountains. Elevation changes produce an exception variety of plants, animals, and scenic vistas.
Desert Hikes: Desert trails range from short, easy nature walks to multi-day treks marked only by rock cairns, if at all. Remote routes provide a wilderness adventure for experienced hikers where silence and solitude are key protected resources.
Mountain Hikes: Rising 7832′ in elevation, the Chisos Mountains preserve a relict forest of oaks, pines, junipers, madrones, and Arizona cypress. There are about twenty miles of trails within the Chisos with excellent year-round hiking opportunities.
River Hikes: Dense stands of reeds and mesquite thickets line the river along much of the park boundary making human access difficult, but providing excellent habitat for wildlife. The best way to enjoy this area is from the river itself, but several short hikes provide access into river canyons or elsewhere along its banks.
TRAVEL & TOURISM
Big Bend National Park offers nearly limitless opportunities for scenic driving, hiking, camping, backpacking, mountain biking, horseback riding, bird watching, wildlife observation, and stargazing. Additionally, the Rio Grande borders the park for 118 miles providing options for half-day floats to extended excursion by raft, canoe, or kayak.
Big Bend National Park is located in southwest Texas, a considerable distance from cities and transportation hubs. There is no public transportation to, or in Big Bend National Park. Several highways lead to Big Bend National Park: TX 118 from Alpine to Study Butte or FM 170 from Presidio to Study Butte (then 26 miles east to park headquarters) or US 90 or US 385 to Marathon (then 70 miles south to park headquarters). Distances between towns and services are considerable. The last major shopping areas (grocery and hardware stores) are Alpine, Fort Stockton, and Del Rio.
Sponsored Links