Sponsored Links
Dallas is a big city in every sense of the word, offering numerous attractions for just about any personality. There is a little bit of everything in Dallas and that is precisely what people enjoy about it. I will be covering some of the more unique places to visit in Dallas and why you need to check them out. So please enjoy reading as I had a great time writing this for you….
Dallas Museum of Art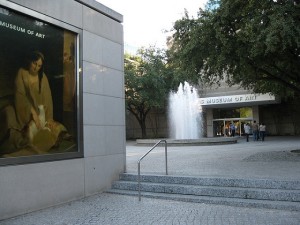 The Dallas museum of art is most famous for housing the unique art of collection of late 19th- and early 20th-century European art and European decorative art. In 1985, the Museum received more than 1,400 works from the private art collection of Emery Reves. Which include impressionist, post-impressionist, and modern paintings, sculptures, and works on paper, and decorative arts objects. This fantastic collection was donated by the Wendy & Emery Reves Foundation, Inc. on behalf of Wendy's late husband Emery. The Dallas museum of art opened a 16,500 square foot wing to house this amazing collection the very same year the art was donated. Now here's where the unique part comes into play. The museums very talented architect named Edward Larrabee Barnes recreated the Villa La Pausa. Villa La Pausa is the home that the Reves had in the south of France and Larrabee recreated the five rooms in the Reves' Villa and installed the works as they were originally installed in France to give the most authentic and unique viewing experience to visitors. The wing presents the entire Reves Collection, featuring important works by Pierre Bonnard, Paul Cézanne, Gustave Courbet, Paul Gauguin, Edouard Manet, Claude Monet, Auguste Rodin, Henri de Toulouse-Lautrec, and Vincent van Gogh, among other beautiful works.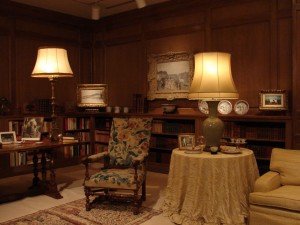 "The Wendy and Emery Reves Collection stands as one of the great bequests in the Dallas Museum of Art's history," said Bonnie Pitman, The DMA's Eugene McDermott Director. "The extraordinary gift of this remarkable collection 25 years ago significantly developed the Museum's holdings of European art, and the contribution of European decorative arts, the area of Wendy's particular personal interest, established the institution's collection in that area. These works of art in this unique setting are enjoyed enormously by our visitors."
The presentation of the Reves Collection at the Dallas Museum of Art replicates a collector's beloved home in Europe within an American museum setting; as Wendy Reves commented in 1985 at the Dallas opening, "I do feel the spirit of La Pausa here,'" said Olivier Meslay, Senior Curator of European and American Art and The Barbara Thomas Lemmon Curator of European Art.
Be sure to not miss this one folks. Even if your not an art aficionado, you might just start your beautiful adventure into the world of art here in Dallas.
Nasher Sculpture Center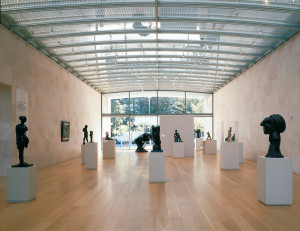 The Nasher Sculpture Center is another unique Dallas attraction that's worth checking out. Raymond D. Nasher was the founder of the NasherSculptureCenter. The city of Dallas recognizes Nasher as one the the most influential patrons of the arts. He devoted his life to making Dallas one of the finest cultural art destinations of the world. The NasherSculptureCenter will carry his legacy for many years to come. The Nasher Sculpture Center is located in downtown Dallas at the base of the city's skyline.
Nasher had the vision to create a roof-less museum and the center represents that beautifully. The goal was to produce a structure of lasting significance that will sustain the legacy of the collection. He called it "a kind of noble ruin reminiscent of the solidly-grounded archaeological sites of ancient civilization and their continuity through time".
As you can see from the picture above, this is just one part of an amazing city. We again ask you to not miss out of this amazing and beautiful attraction. It is unique to say the least.
Thanksgiving Square-"a setting to inspire gratitude"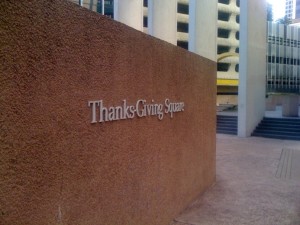 Thanks-Giving Square is a uniquely designed area for meditation and reflection. The Square is accented by many gorgeous architectural spectacles. Thousands of people are attracted every year to The Glory Window inside the spiral of the Chapel of Thanksgiving as it fits into the whole theme of the Square. The Thanks-Giving Foundation promotes the spirit and unifying value of giving thanks in the Dallas community, nation, and the world. The Thanks-Giving Square provides information and resources so that people from different origins can use thanksgiving as a way to heal divisions amongst people and enhance mutual coexistence. This amazing and unique attraction is located 1627 Pacific Avenue in Dallas. Be sure to check it out guys. And just so you know it was voted 2012's "best mini oasis downtown". Not too shabby.
If you're the adventurous type you might consider kayaking on the White Rock Lake. It's very fun and you can even bring your pet dog along. Provided it's less than 50 pounds and well behaved. Most kayak rental places are open to the end of October so be sure to hurry if you want to catch this awesome adventure. And don't worry if kayaking isn't your cup to tea. There's plenty more unique and exciting things to do in Dallas.
Knox-Henderson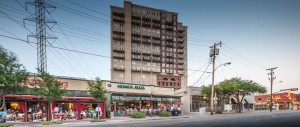 If you're looking for a Dallas hot spot for thriving nightlife, then Knox-Henderson is where it's at! Knox-Henderson is a unique blend of progressive, modern, and old school Dallas.  The bars and eateries are very diverse, just like its city their in. You'll find anything from foreign pubs, to local eats. Bars all walking distance from each other, parking is limited but valet available at any spot. Be sure to stop by for a great dinner and some great times.
Fair Park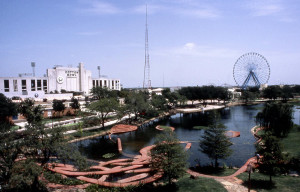 Fun for the entire family can be had at Fair Park. Located at 1300 Robert B. Cullum Boulevard in Dallas, Fair Park attracts many visitors every year. The park covers over 227 acres and is one of Dallas' biggest attractions with its large urban park, museums, flea markets, and many events. Stop by this summer for a great time in another unique part of Dallas.
 Katy Trail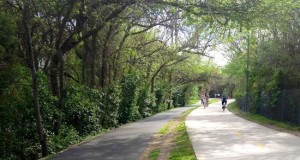 Whether you just rented a Segway or just enjoy people watching, Katy trail is right up your alley. With its pure rugged beauty, the outdoorsy type can find what they're looking for in the big and crowded city that is Dallas. Give it a look and go have some more fun in Dallas, where fun seems to be unlimited.
Dallas City Hall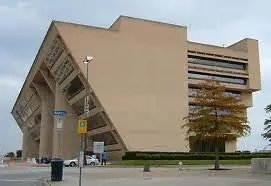 Now this one may be more of just a, "let's just drive by" kind of place. I just had to throw it into this article because I'm a huge fan of the Robocop movie series. That said, Dallas City Hall was the backdrop for the first Robocop movie and is a must see for any fan of the movie. And just in case you're a fan of architecture, I.M. Pei designed this unique piece of architecture. Anyways, be sure to visit. You won't find it anywhere else in the world. 1500 Marilla St., Dallas, TX (Downtown Dallas)
Here's just a tiny taste of what the great city of Dallas has to offer. I hope you've enjoyed reading and I will leave you with a list of some other great hotspots of Dallas. Have fun out there!
Dallas Arboretum & Botanical Gardens
Zero Gravity Thrill Amusement Park Dallas
Morton H. Meyerson Symphony Center
The Sixth Floor Museum/Texas School Book Depository
The George W. Bush Presidential Library and Museum
Southern Methodist University
Winspear Opera House
Klyde Warren Park
Dallas Angelika Film Center
Dallas World Aquarium
Kessler Theater
Top Golf Dallas
Perot Museum of Nature & Science
Crow Collection of Asian Art
Highland Park Village
Bishop Arts District
Dealey Plaza National Historic Landmark District
Sponsored Links