Sponsored Links
Texas has some of the best fishing in the world, but if you're not licensed, you could face hefty penalties by the Texas Parks and Wildlife Department.  To avoid the hassle, simply stop by one of your local retailers and pick one up.  You'll find that fishing licenses are fairly cheap and come with a variety of options depending on the type of fishing you might be doing.  The most important thing is to not get caught without one.  Nothing is more embarrassing than a game warden walking up to you and finding out you don't actually have a license.  Most will immediately issue you a citation that includes a fine much more expensive than what you would've paid for the license.  A license to fish in Texas is very easy to obtain and it usually takes less than 5 minutes when you walk up to the counter and ask for one.
The following retailers are well prepared and trained to issue you a variety of hunting and fishing licenses on the spot:
Wal Mart
Academy Sports
KMart
The Sports Authority
Parker Lumber
In total there are approximately 1700 retailers across the state who have the authority to issue you a fishing license.  If you aren't located near one of these retailers and don't want to make the drive, the Texas Parks and Wildlife Division allows you two basic options to order one from home.  While you can certainly phone in your order, the easiest way buy your license is to make your purchase online.  Simply go to their website at:  http://www.tpwd.state.tx.us/business/licenses/online_sales/index.phtml.  Online licenses typically cost about $5 more to have them delivered to your home, but this small fee is easily recouped in the amount of gasoline cost you'll save by not having to drive to a retail location.  Texas requires hunting and fishing licenses to essentially preserve wildlife.  If the state of Texas gave full access to everyone, Texas' natural resources could dwindle down to nothing.  This could be catastrophic if all the fish were caught and not available when we went out to our favorite fishing spot.  To slow the rate of state resources, Texas requires licensing to legally fish (or hunt) in the state.
Cost of Texas Fishing Licenses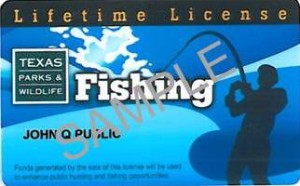 Costs are relatively inexpensive and if you happen to be in the military and are living in Texas, you get a big bonus!  Military members will receive the "Super Combo" package for free at no charge.  This license includes a resident hunting license, a resident fishing license, and all 5 state stamp endorsements (archery, freshwater fishing, saltwater fishing with a red drum tag, upland game bird and migratory game bird.)  Unfortunately, the Super Combo package doesn't include the "waterfowl" stamp which must be purchased separately.  Here are the costs of some of the most common fishing licenses in Texas:
Residents:
Freshwater Package:$30
Saltwater Package:$35
All-Water Package:$40
Senior Freshwater Package:$12
Senior Saltwater Package:$17
Senior All-Water Package:$22
Special Resident All-Water License (for legally blind):$7
Year-from-Purchase All-Water Package:$47
One-Day All-Water License:$11
Non-Residents:
Freshwater Package:$30
Saltwater Package:$35
All-Water Package:$40
Senior Freshwater Package:$12
Senior Saltwater Package:$17
Senior All-Water Package:$22
Special Resident All-Water License (for legally blind):$7
Year-from-Purchase All-Water Package:$47
One-Day All-Water License:$11
* Risk Of Not Getting Licensed:  Not getting licensed to fish in Texas carries heavy penalties.  Depending on the circumstances, you can expect to pay a $200 to $300 fine for fishing without a license.  It's a much better (and cheaper) option to just get your license before heading out on your next fishing adventure.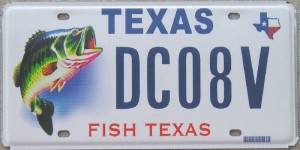 The Sport Oyster License:
A "Sport Oyster" boat license (recreational) is required when using a dredge or tongs to take oysters.  The cost of this license is fairly cheap at on $13, but non-residents must pay $51 for it.  To prove that you're a resident of Texas, your boat registration must have a Texas address on it.  Otherwise, you're expected to pay the non-resident fee.
The "Shrimpers" License:
If you're going to use a trawl for shrimp, Texas requires you to have a special stamp endorsement for shrimp.  This tag typically costs $37 and can be purchased at any TPWD Coastal Office.
The Saltwater "Trot Line" License:
If you're going to fish with a trot line, you must purchase a trot line tag.  Trot lines are a great way to catch a variety of fish or crab and this particular tag only costs $5 so it might be worth it if you're wanting to maximize your efficiency.
A Special Word About "Red Drum"
If you think you might get lucky with Red Drum, you might want to purchase the "Bonus Red Drum Tag."  This tag allows you to catch a red drum that's greater than 28 inches in length.  Who knows, you might get lucky, plus the tag will only cost you an extra $3 bucks.
The Top 5 Lakes For Fishing In Texas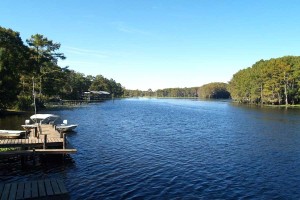 Lake water fishing is categorized under fresh water fishing. Residents of Texas show interest in lake fishing depending on the availability of crappie, a common lake inhabiting fish variety. Based on the population of crappie fish and number of people engaged in fishing the Texas Parks and Wildlife Department (TPWD) ranks the lakes in Texas and the top 5 lakes are listed below.
Granger Lake is located in northeast of Austin in Williamson County. The lake measures 4,000 acres in size.
Lake Texana was built eight miles east to Edna, Texas and measures 9,700 acres in size.
Sam Rayburn Reservoir is 114,500 acres in size and built by U.S army in Jasper.
Lake O' the Pines is located, 25 miles northeast of Longview, Texas. The lake occupies its location on Big Cypress Creek and measures about 17,000 acres wide.
White Rock Creek Lake is in Dallas, Texas. The lake was built in 1000 acres of landscape.
Type of Fish Found In Texas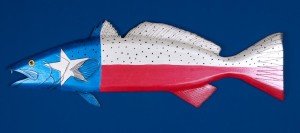 Texas offers an incredible variety of fish in its waters.
Trout, Redfish, Black Drum, Shark, Hardheads, Shrimp, Crab, Shimano Curado or Citica, freshwater drum, white bass, channel catfish, blue catfish, and bluegill are some varieties of fresh water fishes caught through fishing in Texas. Lakeside fishing can fetch you white or black crappies, minnows as well. Fishing should be done through fishing poles and massive capture of fishes using fishing nets is prohibited, unless licensed to do so.
Saltwater or Coastal fishing can fetch you monster crabs, oysters Flounder, Speckled Trout, Sand Trout, Croaker, Sheepshead, Bull Reds, Whiting and Gafftop.
Below is just a taste of Texas lake fishing. While lake Raven is small, it is a beautiful little lake set up in the woods of east Texas. Watch Clark catch a huge bass early in the morning that helps unlock a sold pattern for the rest of the day.
Sponsored Links