Sponsored Links
If you live in Texas and are considering a career in physical therapy, you'll need to take an educational path that will allow you to become licensed by the state's board of physical therapy. This involves completing the course of study required by the Texas administrative code and taking an exam required by the physical therapy association of the state. Read on to learn more about pursuing a career in physical therapy in the state of Texas, including information about salary, employment outlook, education, and more.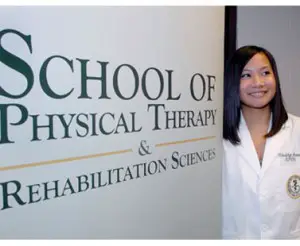 Physical therapists improve the health of people who have been ill or injured by providing rehabilitation services through physician offices, clinics, hospitals, and nursing homes. This is a very active job, since you'll be on your feet helping patients perform exercises and movements that will help them rebuild strength, movement, and mobility. An ability to work closely with physicians and surgeons as well as patients and their families is a necessary part of the job. 37 percent of physical therapists work in doctor's offices, with 28 percent at hospitals, 10 percent as part of home health care services, 7 percent in nursing homes and residential care facilities, and 7 percent self-employed, according to the Bureau of Labor Statistics.
To become a physical therapist and be licensed to perform the duties of the job through the state of Texas, candidates must first earn a doctoral degree in physical therapy (DPT). These programs typically last three years. Though some programs once offered a master's degree in physical therapy, schools are now required to phase out this option by 2015, which means that physical therapists graduating after that time must have a doctorate. Average tuition for a DPT program is around $16,000 per year for a public school, and $30,000 per year for a private school. One way to cut costs is by entering a school in your state to take advantage of reduced tuition rates for residents.
Entrants typically must first earn a bachelor's degree in a related field, with most programs requiring prerequisites in anatomy, physiology, biology, and chemistry. Common undergraduate majors for aspiring physical therapists include biology, anatomy, exercise science, and other health care related fields.
There are also two alternate routes to obtaining a doctorate in physical therapy for those who want a more intensive program that can be completed in fewer years. Some physical therapy programs allow undergraduates to enter after three years of study and before earning a bachelor's degree, providing that certain requirements are fulfilled. A few allow students to enter directly from high school, and are able to enter directly into the program after earning certain undergraduate prerequisites and while maintaining a minimum grade point average.
After earning a DPT degree, physical therapists may also complete a residency program to gain additional specialization in a particular area. Common specialties include cardiovascular therapy, pediatrics, geriatrics, neurology, orthopedics, electrophysiology, sports medicine, and women's health.
For licensure in the United States, it's important that you attend a program licensed by the Commission on Accreditation in Physical Therapy Education. Some of the top ranked accredited schools for physical therapy include the University of Delaware, the University of Southern California, the University of Pittsburgh, Washington University in St. Louis, and the University of Iowa. To learn more about accredited schools, you can visit the Commission's website for a full list. There are currently 227 programs in the United States that offer the doctor of physical therapy degree, as well as 162 residency opportunities and fellowships. During the clinical portion of your education, you'll be able to rotate through different areas and find out what suits you best.
In Texas, physical therapists are licensed by the Texas Board of Physical Therapy Examiners, part of the Executive Council of Physical Therapy and Occupational Therapy Examiners.  The first step to becoming licensed is to apply online at the board's website and pay the application fee of $190. This should be done six to eight weeks before you'd like to take the licensing exam. At the same time, you must send in the required application materials, which include a photo and a transcript from your doctoral program. You should also register for the exam at the website of the Federation of State Boards of Physical Therapy, which costs $370.
Once you've completed those steps, frequently check the status of your application online. When you receive an approval letter through the system, you can make the appointment to take your exam. If you pass the exam, you'll be notified by the Federation and your license to practice will be issued. Licenses must be renewed every two years, with a fee of $185.
Physical therapists earn an average salary of $76,000 per year, with the lowest paid ten percent earning less than $53,500 and the highest paid 10 percent earning more than $108,000 annually. While many physical therapists work full time salaried positions, part time work is also available—particularly for those who own their own businesses or practices.  To make yourself more attractive to potential employers, make the most of your education by joining professional organizations, doing independent research, completing internships, volunteering, or otherwise highlighting your interests and strengths to set yourself apart and stand out.
As the United States population continues to age, demand for physical therapists is expected to spike by the year 2020.   Physical therapy jobs are expected to increase by 39 percent during that period, with additional job openings caused by the need for mobility services for older adults as our life expectancies increase.
Because of the steady work, flexibility, and salary of physical therapy, it's often ranked as one of the best career choices. The work/life balance makes it particularly attractive for women, who make up about two-thirds of the profession. This means that if you're looking for a career in health care where you can make a tangible difference in the lives of others, with a great salary and strong job security, physical therapy is a great choice for you.
Sponsored Links