Sponsored Links
Becoming a pharmacy technician in Texas is a simple and rewarding career path.
It's as easy as taking a ninety question test.
There are not a lot of requirements.
The process is simpler than you would think.
It's all up to you to get out there and go get that job.
Here's some very helpful information for you to ease yourself into an excellent job field.
Good luck!
Simple Steps To Landing A Pharmacy Tech Job…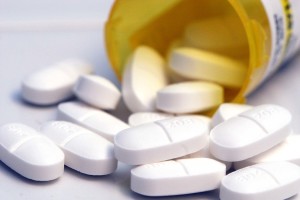 If you're considering this job early in life, take classes like biology, anatomy and chemistry in high school to prepare for your new job as a pharmacy technician. Graduate from high school and receive your diploma.  A diploma is a critical milestone in everyone's life that shouldn't be taken granted.
You must have a high school diploma (or equivalent) and be at least 18 years old to qualify for pharmacy technician training programs. Just find a pharmacy that is hiring a pharmacy aide or pharmacy tech trainee.  Stores like CVS, Walgreens and Rite Aid, as well as smaller, local pharmacies, hire aides who receive on-the-job training.  People come and go all the time, so keep looking, even if no one is hiring at the exact moment you're applying.
Complete which ever pharmacy's training program you've decided to enter.  A Texas pharmacy training program usually takes just 6-8 weeks, consist of learning prescription drug names and drug interaction details.  After completing the pharmacy aide training program, you should have the knowledge and skills to fly through the exam with little to no problems when trying to become a certified pharmacy tech.
Contact the Institute for the Certification of Pharmacy Technicians or the Pharmacy Technician Certification Board to schedule a test for you to receive your certification. Getting your certification is not required to work as a pharmacy tech, but is highly recommended by everyone in the pharmacy tech career field, so it's good advice. The Texas Board of Pharmacy can provide you with all the right information you'll need for success.  Be sure to search their site thoroughly so you'll know exactly what's required for this job.
Complete the application and pay the required fee. Some places will actually pay the fee or pay you back for it after you become certified. It's always a good idea to study up and prepare any way necessary and as much as you can to take the exam. After receiving a passing score on the exam, the certification board will give you a certificate with your name on it saying you're a pharmacy technician, which will essentially open doors to a new career for you.
Pharmacy Technician Certification Board Test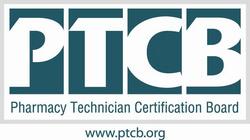 The Pharmacy Technician Certification Board and the Institute for the Certification of Pharmacy Technicians, or ICPT, offer a national certification by examination which again, isn't necessary but highly recommended.
The exam is short and sweet.  It is only two hours long and consists of just 90 multiple choice questions.
To be eligible for your certification, you must have a high school diploma or equivalent and have no felony convictions. Also, to be more specific, if you do become a candidate for the Pharmacy Technician Certification Board you must not have drug or pharmacy related convictions of any kind, INCLUDING misdemeanors.
There are three major areas covered by the test: first off is assisting in the service of patients, second is maintaining medication and inventory control systems, and third is performing administrative and managerial tasks of the pharmacy practice.
When you pass the ICPT exam you are granted the title of "Certified Pharmacy Technician" that you just earned.
Your certification is valid for two years and does expire.  It can be renewed through the completion of twenty contact hours of continuing education in pharmacy related fields.
Schooling Options – Should You Take That Route?
Formal educational preparation of the exam is not required in Texas.  Many colleges offer associate's degrees in the pharmacy field and this type of course work is what most hiring pharmacists are looking for.
Some schools and organizations offer a pharmacy technician diploma or certificate programs.  In these programs you will take courses on medical and pharmaceutical terminology, pharmaceutical recordkeeping, pharmacy law and ethics.  You also learn the necessary names, uses, actions, dosages and labeling for different types of medications.  These formal diploma and certificate programs usually take anywhere from six to twelve months to complete, with most requiring an internship.  Personally, we think it's a lot easier to enter your on the job training program, grab your study book and hit it hard.  Then, pass the examination on your own.  This is how 90% of pharmacy techs enter the workforce.
Tips For Passing Your Exam
Passing the Pharmacy Technician Certification Exam is a necessary step in becoming a certified pharmacy technician.  Studying for the test can seem challenging, but don't worry.  Being prepared is the most important factor in passing the test.  The majority of the test centers around assisting the pharmacist with prescription-related issues.  66% of the test questions are focused in this area and this is really where you should spend most of your time studying.  Taking orders, filling refill prescriptions, meeting federal mandates for the control and issue of certain controlled drugs, and dealing with insurance companies are just a few of the areas you'll need to be familiar with on test day.  This is why the program is designed with on the job training as the core way to gain knowledge.  You simply register as a pharmacy tech and later test.  If you're still not comfortable after your training program, the PTCB has practice exams you can buy for $29.95 each.  These are very useful in curbing your test anxiety and will prepare you to address the types of questions that you will be asked.  Once you believe you have enough knowledge, be sure to follow our advice as you prepare to walk into the testing room:
Rest:  Getting a good night sleep is vital to passing the test with no hiccups.  Try to get at least 8 to 10 hours of sleep before the night of the      exam.  You will retain information better if you have a clear and rested noggin.
Breakfast:  Make sure to eat a nice and healthy breakfast.  Picking healthy alternatives for your morning meal has been proven to help give you the energy you need to think clearly and deal with the nervousness and pressure of your exam.  If you are hungry, nine times out of ten you      won't be able to think with a clear and straight mind and that's something everybody needs, so be sure to eat your breakfast.
Stress:  Stressing over the test the night before is a big mistake.  If you've studied hard, there's not a single thing to worry about. Always remember to keep a positive state of mind and be sure to have that "can do" pep in your step.
Do Your Best:  Be sure to do your absolute best the very first time you take the exam.  If you don't pass it the first time, the test isn't going anywhere. Come back and pass it.
Be An "Early Bird":  Make sure to arrive early at the testing site. "To be on time is to be late, to be early is to be on time."  Remember that.  Arriving early with take the edge off and make you feel a lot less nervous.
Pharmacy Technician Salary In Texas
The U.S. Bureau of Labor Statistics has done all of the mathematics for us and has the national average for a pharmacy tech at approximately $28,940 in one of its 2009 Occupational Employment and Wages surveys. This figure is slightly higher than the salary earned by Texas' pharmacy technicians, averaging a statewide wage of $28,870 per year which isn't bad at all for only having to take a ninety question test.
Pay Range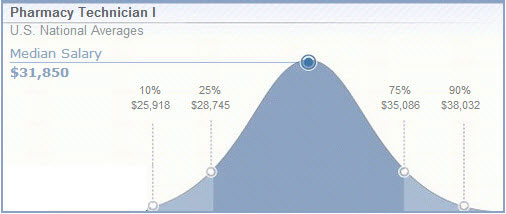 On the high end of Texas' 28,500 pharmacy technicians, salaries were higher than the state and national average.  In Texas, the vast majority of pharmacy technicians earned in the $30,000 a year range, with techs making $38,150 per year on the high end and $21,150 on the absolute bottom end.  As the above chart indicates, the median salary for pharmacy technicians is right around $30K annually.
Hot Cities To Hit Up
Salaries vary widely by city here in Texas. But the hot cities for pharmacy technician money that can reward you above the state and national average salary are; Austin, Round Rock area, Dallas, Fort Worth, Arlington area and Dallas, Plano, Irving area, at $30,270, $30,160 and $30,360. Again, not bad for a ninety question test.
To work in a pharmacy as a pharmacy technician or pharmacy technician trainee, individuals must be registered with the Texas State Board of Pharmacy (TSBP).  After TSBP notifies an individual of registration, the individual may work in a pharmacy.  Board rule §297.6 requires every pharmacy to provide pharmacy technicians/trainees initial on-the-job training.  All pharmacy technicians/trainees are required to complete the initial training when beginning employment in a pharmacy.  The rules are very specific as to the areas that must be covered in on-the-job training programs. On-the-job training is the only training required for pharmacy technicians/trainees.  Bottom line….  Formal classroom time is not required to be a pharmacy tech to start work.  Simply apply, show that you've applied and you can begin your OJT program.
From the Pharmacy Technician Certification Board
"Passing your certification exam is the one of the best feelings in the world.  Certified technicians generally have a great knowledge base of the pharmacy field and also make higher salaries.  Certification can also lead to promotions and lead pharmacy technician positions.  To learn more about the PTCE go to www.ptcb.org."
Summary and Recap:
We wrote this article because Texas is a great place to become a pharmacy tech!  A number of people use this career path to lead them into other areas of the health care profession.  Pharmacy technicians also enjoy flexible hours that will enable them to also attend college courses outside of work and many move on to become nurses, respiratory therapists, radiology technicians, and many, many others.  The success stories are far and wide!  Just follow these three steps and you'll be on your way:
Register with the Texas State Board of Pharmacy (TSBP).
Apply for a training program with Walgreens, CVS, etc.
Take "Pharmacy Technician Certification Exam" with PTCB.Org.  Once you're ready to test, you can sit for your exam at any Pearson Vue Test Site.  There are over 235 test centers nationwide and you can call (866) 902-0593 to find one near you and schedule your exam.
Enjoy work/money.
We hope you enjoyed this article and sincerely hope you're successful in becoming a Texas Pharmacy Technician.  If you have any questions about this program, please don't hesitate to leave us a comment.  We will answer any questions you may have for not only your benefit, but for others who may be interested in the program.
Sponsored Links