Sponsored Links
Attending college has long been considered the obvious "next step" after a student finishes high school, and in today's economy a college degree may be more necessary than ever to qualify for many of the most desirable jobs. Recent high school grads aren't the only ones who should strongly consider attending college in their near future though, as even adults who decided not to stay in the classroom can open up a whole new world of career opportunities by returning to school. When considering where to apply, the city as much as the college or university should be a top consideration. An ideal city has a rich culture, vibrant nightlife, and thriving job market for graduates to intern in and eventually enter upon graduation. With those criteria in mind, anyone considering beginning their higher education should take a look at the colleges in Austin, TX.
Why it's worth it, why Austin?

While it's undeniable that many jobs require at least a bachelor's degree to be considered, the rising cost of tuition across the country, among other things, has contributed to growing skepticism as to whether college is really worth the investment. Despite the tremors of fear that the certainty of student loans and uncertainty of the post-graduation job market can cause, there are two very good reasons as to why attending college (especially one of the colleges in Austin, TX) is the right choice to make:
1)      The job market is a lot more uncertain without a degree. According to the United States Department of Labor (DOL), the unemployment rate for individuals possessing only a high school diploma was 8.3% in March of this year. The rate falls to 6.4% for people with "some college or an associate degree," and drops all the way to 3.7% for those possessing a bachelor's degree. While some areas of study offer more career opportunities than others, the numbers don't lie; a college education means not just better, but drastically better chances of finding employment.
2)      Low-skill labor is on its way out. The research backing this assertion is just as conclusive as the prior point's, and has fueled the talk about "outsourcing" for the past decade. As new markets open up in China, India, and other developing countries, the low-skill jobs that once allowed high school graduates to make ends meet and support a family are disappearing fast. A recent study by the McKinsey Global Institute predicts that by 2020 the U.S. could have a low-skill labor surplus as high as 58 million workers (i.e. that 8.3% number cited earlier is poised to spike within the decade).
A degree from any college or university may seem like the obvious solution to the first point, but the colleges in Austin, TX are positioned to provide a degree that confronts both issues head on. Not only was Austin's unemployment rate for March a full 2.3% lower than the national average, according to a recent DOL report (5.3 and 7.6 respectively), but the industry fueling the economic engine of the city is technology. In a recent speech made in the area, President Obama applauded Austin's tech industry for driving "more than one quarter of Austin's economy." The tech boom is nothing new though, as Austin was aptly given the nickname "Silicon Hills" in the 1990s. With many technology companies operating offices in the city, including Dell, IBM, and Samsung, there is an inherent appeal of attending one of the colleges in Austin, TX.
The "Big" Two
When it comes to colleges in Austin, there are two that should standout to prospective students. Both schools afford students the chance to blend Austin's unique atmosphere and culture into their academic pursuits, give students and recent graduates a foothold in developing relationships with prospective employers, and provide a top-notch education. The attributes they have in common stop their though, as the two institutions are like bookends to the college experience.
The University of Texas At Austin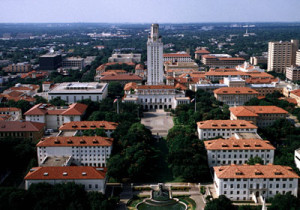 Established:                        1883
Public / Private:                Public
Undergraduates:             38,463 (2011)
Postgraduates:                 12,682 (2011)
Academic Term:                Semester
Location:                            Downtown Austin
Nickname:                          Longhorns
Discussions of the colleges in Austin, TX often begin and end with the University of Texas at Austin (known commonly as UT).  One of the true heavy-weights of higher education, UT is nationally known for its sprawling campus, storied history, and iconic Texas Longhorn football team.  Situated in the heart of downtown, with the south edge of campus only a few blocks from the State Capitol, UT students experience the full-force of Austin's famous "Sixth Street" nightlife. The (slim) majority of students find ways to cope though, as the graduation rate for full-time four year degree programs (completed in four years) is just slightly over 50%.  The numbers are improving though.  The University has a taskforce researching retention and on-time graduation, and they have made over 60 recommendations for improvement.  Predictions are that the rate will bump up to 70% by 2016 (according the University's own literature).  Off-campus activities are just one small aspect of UT culture though, and the Greek system, football season, and plethora of clubs and organizations offer endless extracurricular activities for all tastes.
Fall semester begins at the end of August, ending in early December, and spring semester begins mid-January, ending at the start of May; the application deadlines for fall/summer and spring are the beginning of December and October respectively.  UT has 17 separate colleges, encompassing over 170 majors, and pretty much any area of interest under the sun is covered.  To support education in such a diverse range of fields, the university has seven museums and 17 libraries as well. For individuals who are unable to commit full-time to their academic career, UT offers the Continuing & Innovative Education (CIE) program.  With a variety of options available, including online and evening courses, a busy schedule won't be a barrier to study.
A household name (and not just in the U.S.) the University of Texas at Austin is more than just a place to get an education; for anyone looking for the "complete" college experience (with the ups and downs that entails), there are few institutions better suited to provide.
St. Edward's University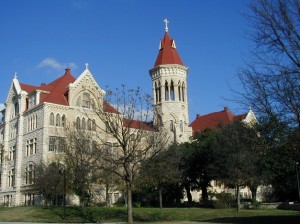 Established:                        1885
Public / Private:                Private (Catholic)
Undergraduates:             4,425 (2012)
Postgraduates:                  875   (2012)
Academic Term:                Semester
Location:                             South Austin (Across the Colorado River)
Nickname:                          Hilltoppers         
URL:                                       http://www.stedwards.edu/
Nestled on a hill off of South Congress Avenue, St. Edward's University (known as St. Ed's) is a college in Austin, TX that has been able to avoid being completely enveloped by the longs shadow cast by their downtown neighbor. While things may indeed be bigger in Texas, St. Ed's is a testament to the truth that good things come in small packages. The quaint campus is punctuated by beautiful architecture, well-manicured lawns, and a truly stunning vista to take in the city and surrounding countryside (especially beautiful at sunrise and set). The campus undertook multiple construction projects in 2012, one of the highlights being a new library and "learning commons" due to open in 2013. St. Ed's graduation rate is similar to UT's, at a few ticks over 50%. While they have not publicized any efforts to improve on this, a dutiful student should be more than satisfied with the academic environment. An inherent perk of being a small school, St. Ed's has a student to faculty ratio of 14:1, and a little over half of their classes have 20 students or less; none of their classes in 2012 has more than 50 students.
Also on the semester system, St. Edward's University's academic calendar sees fall semester begin at the end of August, with Spring break starting back up mid-January and a break for Christmas in between. The admissions deadline for fall is tiered into three priority categories, with the first at start of December and the last the first of May. In spring the deadline is mid-November. St. Ed's offers an Adult Learners program for students unable to commit full-time, and even have the opportunity for individuals to turn work or life experiences into college credits through various exams. The degrees offered reflect St. Ed's reputation as a liberal arts college, with the majority of the programs falling under that category. There are also mathematics and science majors available, but the school does lack an engineering department. All in all, there are five colleges and about 75 fields of study available, but to supplement the school does boast an impressive international network of 12 partner universities around the globe.
With nearby South Congress developing as a happening spot for a bite to eat or quick drink, and downtown Austin only a short bus, cab, or drive away, St. Ed's is  great option for a first-class education without the pressures of life on a larger-than-life campus.
Other Options
St. Edward's and U.T. are the two main colleges in Austin, TX, but they aren't the only two. They may fly largely under the radar, but it wouldn't be a complete discussion of the higher education options available in Silicon Hills without a brief snapshot of Concordia and Huston-Tillotson University as well.
Concordia University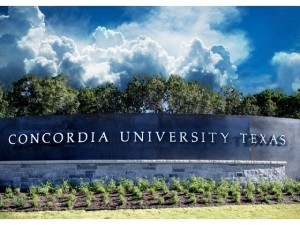 Established:                                       1926
Public / Private:                                Private (Lutheran Church – Missouri Synod)
Undergraduates:                              1,502 (2011)
Postgraduates:                                 1,156 (2011)       
Academic Term:                                Semester
Night / Part-time available:          Yes
Degree Programs:                           Liberal Arts; Science (No Engineering)
Location:                                           North West Austin (Near Travis Lake)
Nickname:                                         CTX
URL:                                                    http://www.concordia.edu/
Huston-Tilloston University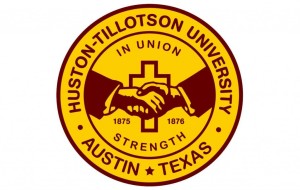 Established:                                        1881
Public / Private:                                 Private (United Methodist Church, United Negro College Fund)
Undergraduates:                              904 (2011)
Postgraduates:                                  N/A      
Academic Term:                                Semester
Night / Part-time available:          Yes
Degree Programs:                           Liberal Arts; Science (No Engineering)
Location:                                          South of Downtown (Near Lady Bird Lake)
Nickname:                                        Rams
URL:                                                    http://htu.edu/
 Below is a video of a student at St. Edwards University.
Sponsored Links