Sponsored Links
If you're looking to get wet and take a break with the kids, why not check out one of the amazing water parks surrounding the Dallas Fort Worth area and the northeast portion of Texas?  While there are plenty of ways to cool off, one of the most effective (and definitely most fun) has got to be a trip to your local water slides!  For people living in (or visiting) the part of the state, there are plenty of water parks in Dallas and the surrounding metroplex for nonstop fun-in-the-sun until fall arrives.  A day at a Dallas water park is certain to be a good time, but it isn't complete without stopping by a great nearby eatery for a bite to eat at midday, or once the sun starts to set and it's time to head home.  Water parks are also great itinerary additions in the event you're on a Dallas Texas staycation. 
Below, we compare water parks in the Dallas area so you'll find just what you're looking for.For a list of water parks in Dallas, some well-known, and some off the beaten path, look no further.  There are plenty to choose from, but it always helps to have a place to start.  Here are just a few amusement park ideas for you to spend a sunny afternoon this Summer while you're in the Dallas area.  Make no mistake, this is a list of theme park's, and the theme is "water":
Bahama Beach Waterpark
One of the few water parks to be found inside Dallas city limits (most others are located in the surrounding metroplex), Bahama Beach is packed with fun activities for the whole family.
This Hawaiian style theme park features everything from:
40 foot fun and fast water slides

An aquatic playground

Two zero-depth entry pools

A fresh water "lazy river"  

There are even attractions for those not wishing to spend the day in the water, with private cabanas available for rent…and there's plenty of shade around the park to lounge in.
Located just south of Downtown, this park is conveniently located for a quick trip or an all-day excursion featuring fun and winding downhill slides!  Bahama Beach opens in May on a limited basis, and the regular schedule begins on June 12th, and ends on August 25th.  During the regular season, the park is open Tuesday through Saturday from 10:30 a.m. to 6:00 p.m. and Sundays noon to 6:00 p.m.
General admission is $15.00, and discounted tickets are available for children and seniors.  Season passes are also available at varying prices which typically pays for itself after your fourth visit to the park.  For 2014, season passes are $60 for non-residents, and $50 for Texas residents.  This is a considerable bargain if your kids happen to live close to the park and need some activities to keep them busy for the Summer.  Get them away from the TV and video games and out enjoying some fun in the sun.
Like most water parks in Dallas, Bahama Beach offers its own selection of food and beverages for sale, but its proximity to downtown means that grabbing a bite before or after is easily done at any of Dallas' local eateries.  For a quick bite after, or even to pack a lunch prior to entering the park, consider visiting nearby Rudy's Chicken at 3115 Lancaster Road, or the Catfish Connection across from nearby Kiest Park on W Kiest Boulevard.  Picking up a lunch and packing it into the park is a viable option, but there is a $5.00 cooler fee which is well worth it if you don't want to pay park prices for food and plan to stay awhile.
Bahama Beach is located at 1895 Campfire Circle, Dallas, TX 75232, 214-671-0820, Search their web site at:  bahamabeachdallas.com
NRH2O
For an all-day amusement park adventure outside of Dallas, head about thirty minutes west along 183 to NRH20, a water park filled with attractions sure to please the whole family. NRH20 covers a lot of ground, and has an impressive resume of single rider, multi-rider, and family oriented attractions. On top of the water rides, the park also promotes family fun with its free picnic areas, pavilions, and special activities. Like Bahama Beach, NRH20 also has private cabanas available for rent, which can accommodate a maximum of six guests and provide the purchaser with perks such as discounted admission tickets.
For those that don't mind staying out a little past peak water park hours, NRH20 has an ongoing nighttime event known as "Dive-in Movies." As the name suggests, the water park hosts movie nights inside the park. Bring a blanket as well as a towel, and after spending the day on the water spend the night under with the stars enjoying such favorites as Jaws, The Sandlot, Thor, and many more! A full schedule of what's playing and when is available on the official NRH20 website (URL provided below).
NRH20 opens on May 18th, and for the first week operates every other day from 10:00 a.m. to 6:00 p.m.  After that, the parks regular hours are Monday through Friday, 10:00 a.m. to 7:00 or 8:00 p.m. depending on the day (open late for special events).  The season ends on September 8th. Admission is $19.99 for children and adults, but the park offers free parking and no charge for coolers.
While NRH20 may not offer the same array of dining options around the park as Bahama Beach, there are still a few places that are worth the detour.  With the option to bring in a free cooler, packing a lunch (or even dinner, depending on how long of a day you've planned) is probably the best option. McAlister's Deli just north along Grapevine Highway is a great spot to grab some sandwiches.  For those looking for something a little more adventurous, Chan's Mongolian Grill is just a few minutes past McAlister's in the same area.
NRH20 is located at 9001 Boulevard 26, North Richland Hills, TX 76180, Phone:  817-427-6500, Web Site:  nrh2o.com
Mosley Water Park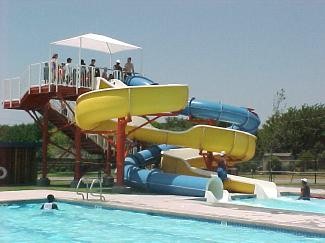 Finding a water park in Dallas or the surrounding area to relax at doesn't always have to cost an arm and a leg, or include the large number of attractions (and crowds) of the two parks previously covered.  Only twenty minutes south of downtown Dallas on the 77 is Mosley Water park, a modest aquatic attraction that can provide the perfect remedy for the crowd fatigue that the larger parks can often induce on hot summer days. Mosley is made up of a large zero-depth entry pool with two slides, an area for lap swimming, and a few other small water themed attractions for children.
What this water park lacks in attractions and frills, it makes up for with a more casual park-like environment and rock bottom rates. This "water park in Dallas" is technically in nearby DeSoto, and for DeSoto residents with a valid ID the entrance fee is only $4 for adults and half that for children. For those not from DeSoto, the rates are only slightly higher at $5 for adults and $4 for kids. Season passes are available as well, priced at $65 and $90 for residents and non-residents, respectively. Mosley Water park offers swim lessons and water aerobics classes after they open on June 8th. Park hours are Monday through Thursday noon to 7:00 p.m. and Friday & Saturday 11:00 a.m. to 7:00 p.m. For a complete schedule of water aerobics and swim lessons, and information on how to sign-up, visit their website (URL provided below).
Located in what is essentially a community park, Mosley Water park has ample options for those planning a meal while out for the day. Evan's Pit Bar-B-Que Inc. to the southeast on Pleasant Run Road is a good place to find some hearty, down-home BBQ, while Burrito Express to the northwest on N Hampton Road serves up great south of the border classics. Whether eating in at a local establishment, bringing it back to Mosley, or even taking in a change of scenery by dining at nearby Grimes Park, getting a good meal while at Mosley's shouldn't be a problem.
1300 Honor Drive, DeSoto, TX 75123, Phone:  972.228.3553, Web Site:  ci.desoto.tx.us/index.aspx?nid=272
The Only Way to Choose… Try Them All!
When it comes to choosing a water park in Dallas to frequent this season, the only fair way to decide is to try them all!  As previously mentioned, there are just a few of the many water parks in Dallas and the surrounding area. If three doesn't seem like enough of a sample, a few other notable water parks in Dallas and farther afield are:

A family oriented waterpark with four slides, a lazy river, and plenty of area for relaxing in the shade. For the athletically inclined, or those who just like to spice up the day with a little friendly competition, this park also features a sand volleyball court. Denton's admission fee is based on height, with those above 48" paying $11 and below only $7.
2400 Long Road (By Loop 288 & FM 428/Sherman Drive), Denton, TX, Phone:  940-349-8810, Web Site:  dentonwaterworks.com
Wet Zone Water Park
An all-around water park, this one has a little something for everyone.  Located in the nearby town of Rowlett, Wet Zone Water park has splash zones for the kids, pools, slides, and is even known to play host to the occasional water fight. Admission is priced on two separate scales for residents and nonresidents, but no matter which category and subcategory someone falls into, they won't have to shell out more than $10.50 for a ticket.  This water park is incredibly easy on the wallet, but your kids will love it!
4000 Main Street, Rowlett, TX 75088, Phone:  972-412-6266, Web Site:  wetzonewaterpark.com
Six Flags Hurricane Harbor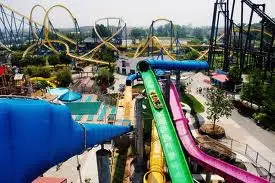 Although it's unlikely that anyone from the Dallas area isn't already familiar with Six Flags Hurricane Harbor in Arlington (formerly "Wet and Wild", no discussion of water parks in Dallas is complete without at least a courtesy nod to the behemoth of the aquatic entertainment industry.  With a plethora of slides, rides, and events (and an admission price that reflects it), Hurricane Harbor is not a destination for a casual outing or the faint of heart.  Admission price is $27.99 for adults and $24.99 for kids at the gate, but purchasing online can bring the adult price down to $24.99.  This is the "grand daddy" of all Dallas water parks, so get there early and try to hit all the wonderful slides.  Hurricane Harbor is our absolute #1 pick as biggest and best water park in the DFW Metroplex.  You'll find fantastic reviews all over the web for this one; and while it's crowded on some days, the lines go really fast.  A trip to this particular park makes for a great vacation worthy of the trip if you're not from the DFW area.  Some of the best water attractions include:
Wave pool
Incredible (fast) water slides
Lazy river
Surf rider pool
Small water slides for toddlers
Here's a video of two of the newest water slides at Hurricane Harbor:
1800 E. Lamar Blvd., Arlington, TX 76006, Phone:  817-265-3356, search their web site at:  sixflags.com/hurricaneharbortexas
Indoor Water Parks Around Dallas
The Dallas area has only one indoor water park that we're aware of.  It's located in Grapevine, TX and is called Great Wolf Lodge.  This indoor water park hosts a variety of water slides, a wave pool, and looks to be very entertaining for young children.  They are located at 100 Great Wolf Drive and reservations can either be made on their website or by calling 1-800-693-9653.  This amusement park provides year-round fun and the hotel rooms are located right next to the park so you can have a staycation of sorts when you go there.  This park looks like loads of fun, especially when the other parks are closed.  They offer a turnkey package that includes a hotel room with free park admission.  This amusement park is created for family entertainment and centers itself around customer service.  So much, in fact, that it has achieved incredibly high satisfaction ratings by its visitors.
Sponsored Links