Discovering Unclaimed Money in Texas: A Comprehensive Guide to Reclaiming Your Lost Assets
Unclaimed property is money that has been left behind in Texas, and many people don't even realize they are owed money.
Unclaimed money can include unclaimed wages, forgotten stocks, bonds, security deposits, inheritances, and more.
Fortunately, there is an easy process to help Texans uncover and claim their lost funds.
Let us guide you in reclaiming the surging $7 billion worth of assets lying unclaimed in the Texas Treasury. These often include forgotten bank accounts, stocks, bonds, and other varieties of assets. Start claiming what's rightfully yours today!
We'll help you figure out if you have any unclaimed money in Texas.
So if you're motivated to get your hands on some cash, look no further than ClaimItTexas!
'ClaimItTexas.org: A Legitimate Platform to Reclaim Your Lost Assets? Our Comprehensive Review'
In the first place, if you are like most Texans you would never believe you had Texas unclaimed money.
Money is not exactly falling off trees. Yes, it is real and legitimate. Claimittexas org is a free way to do an unclaimed money search.
I speak from experience. It was an easy search for me. It took less than ten days for my $40.00 to arrive. Hey, Forty dollars is 40 dollars!
If you're on a quest for unclaimed funds in Texas, ClaimitTexas is your reliable platform. As an official Texas Comptroller's portal, it empowers Texans to track down and reclaim their lost wealth. The process is straightforward: Enter your name, search the database, and follow the claim process to retrieve your lost assets.
No matter what type of lost assets you're after - be it uncashed checks, forgotten funds, or dormant accounts, ClaimitTexas.org is the guide you need. Just make sure you prepare supportive documents, like your state ID, to facilitate the claiming process.
Claimittexas.org gets your lost money in Texas for free!
The process of claiming your unclaimed property is simple and free. All you need to do is go to the website and enter your name or business name in the search bar.
You can also do a claim it Texas status to check on the status of a claim or upload documentation if needed.
Once you have found what you are looking for, simply fill out an online form and submit it to the Comptroller's office. Below we show you how to finish your search quickly.
But first, check out the many types of lost money in Texas. Be sure to have an email address.
ClaimitTexas: Surprising types of unclaimed property in Texas
Mineral Royalty: This includes unclaimed royalties from mineral resources extracted from your property that you may have been unaware of.
Unpaid insurance benefits
Unclaimed bank accounts
Tax Refunds
Utility Deposit
Security Deposit
College Refund or Rebate
Finance Company Loan Death Benefit
Premium Refund on Individual Policy
Dividends (example from Texas instruments)
Wages, Payroll and Salary (largely from temp agencies)
Escrow or Title Insurance
Kmart and other store layaway
Gift Certificates (example: Pampered Chef)
Annuities
Trade Accounts
AT&T Mobility settlements and similar
Customer Overpayment (example: Verizon)
Public Accounts
Workers Compensation payments
Step 1: Search for Unclaimed Money in Texas
The first step in the process is to search for your unclaimed money in Texas. You can do this by using the Texas Comptroller's Unclaimed Property Database, or visiting the official website of the Texas Comptroller of Public Accounts.
All you need to do is enter your name or the name of a family member to see if you have any unclaimed money or property waiting for you.
Tips to help you claim unclaimed your lost money today –
Begin search
First, search by your last name or first and last.  More results appear with the last name only.
Find yourself, select the claim button.  
Select a drop down menu for the relationship to the claimant. 
Receive a claim form by email. 


Select
Select: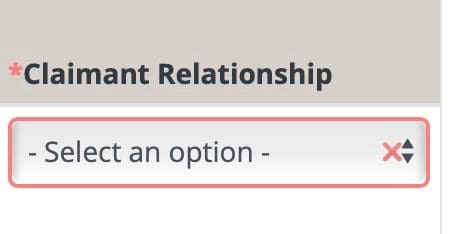 CLAIMITTEXAS RELATIONSHIP
a. I am the owner
b. I have POA (power of attorney) for the owner
c I am legal heir to the owner
d. I am court appointed Admin/ Executor to the owner/ Estate
e. I am trustee for the owner
f. I am parent/ legal guardian of the owner
g. I am a Government entity
h. I am an officer for the business
Step 2: Gather Supporting Documents
Once you've identified any unclaimed money or property that you may have, the next step is to gather any supporting documents that you may need to prove your ownership.
These documents can include a copy of your driver's license, a copy of your social security card, a copy of your birth certificate, or any other documents that prove your identity and ownership of the unclaimed money. These documents can be uploaded.
Step 3: Submit a Claim Form
After you've gathered all the necessary documents, the next step is to submit an official claim form to the Texas Comptroller.
Once you've submitted the form, the Comptroller will review your claim and contact you if additional information is needed.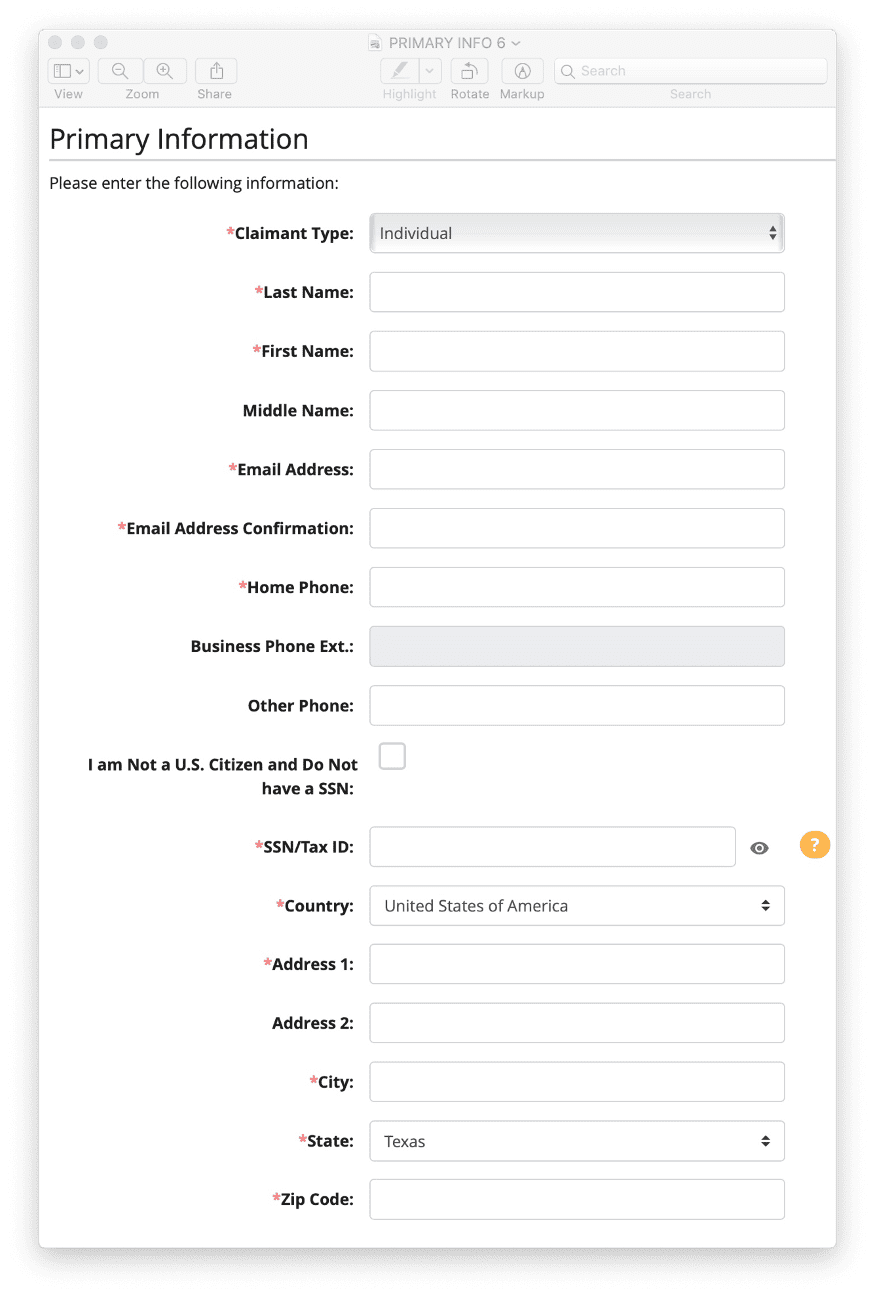 ClaimitTexas -RECEIVE EMAIL CONFIRMATION FOR UNCLAIMED PROPERTY IN TEXAS
Next, You will receive an email from no.reply.up@cpa.texas.gov with your claim number and further instructions:
Claim ID ########
Dear Claimant:
Claim ######## has been approved. Either-
1. No further action is necessary on your part.
2. Proof of Identity required.
 3. You should receive payment within 10 business days. 
Step 4: Receive Your Funds
Once the Comptroller has reviewed your claim and all the necessary information has been provided, the next step is to receive your funds.
Depending on the type of unclaimed money that you have, the Comptroller will mail you a check.
Texans ask if it is an easy process.  It was for me.  The main reason is because Texas allows the claimant to upload images and documents.  
Some other states do not allow it or are just now upgrading and streamlining efficiency. 
To search for unclaimed property related to these items, you can use the Texas Comptroller's Unclaimed Property Database or visit the official website of the Texas Comptroller of Public Accounts.
If you're a Texan wondering how to claim unclaimed property or if there's a government list of unclaimed money, ClaimItTexas is legit and your one-stop solution.
You can donate all or a portion of your ClaimItTexas property to the wonderful children of Texas. Texas children are future engineers, oceanographers, actors and many other professions.  
What a charitable way to help Texas children realize their dreams and become productive, helpful adult Texas citizens.
While it is so much fun to get money you didn't know you had, it is more blessed to give to the Texas children.
Texan kids can one day build a stronger Texas thanks to your charitable heart.
Texas Comptroller Donation
Take a few minutes and easily claim your money
Texans are always looking for ways to make their lives better, and that includes finding money they think is rightfully theirs.
Have you ever wondered if there's a government list of unclaimed assets in Texas?
We've got everything on it- cash claims, property assessments & more importantly -How DO I claim my abandoned asset(s)?
Unclaimed money in Texas is money that has been left behind, and it can be easy to forget about.
Fortunately, the process of uncovering and claiming your lost funds is easy and straightforward.
By following the steps outlined above, Texans can easily uncover and claim their unclaimed money.
If you are unsure if there is any unclaimed property associated with your name, it is still worth checking out ClaimitTexas.
There may be money from deceased relatives or other sources that could be waiting for you. Why leave money on the table?
The website also provides helpful information about how to protect yourself from fraud and scams when dealing with unclaimed money.
Discover your unclaimed wealth with ClaimitTexas! Just like John, a Texas resident who reclaimed a whopping $2,000 from his forgotten bank account. Start your search now, you might be leaving out on a fortune!
Don't wait anymore, take action! Visit ClaimitTexas.org, type in your information, and embark on the journey of reclaiming what's rightfully yours. Your unclaimed treasure is just a few clicks away!