NIO stock is on fire as of late! NIO stock was trading at $7.50/share six months ago. The stock trades currently at just over $56/share.  The brand NIO is a Chinese-based electric vehicle (EV) company. They now enjoy tremendous growth as millennials pile into the company.  The stock had a minor pullback lately selling off approximately 8% of its value. It has steady support at the $40 mark.  The hot company NIO captured the imaginations of people who envision a global fleet of electric vehicles.  Now, NIO is one of the most highly traded stocks on the market trading closely behind its cousin, Tesla. Is NIO the next TESLA?
NIO vs. TESLA
First, Nio's cars are capable of traveling 450 miles on a single charge, placing it in direct competition with Tesla.  In addition, Nio is rolling out fully autonomous driving. It will be available as the latest ET7 model.   While originally in partnership with Intel's Mobileye, Nio recently announced that it is re-launching its in-house self-driving program.  This appears to be a complete break with Intel as its partner; however, we're not completely certain of that.  Nio gained popularity by delivering a lineup of all electric SUVs:  the ES8, the EC6, and the ES6.  With the rollout of the ET7, Nio is on its way to dominating the Chinese EV market as the ET7 comes with an optional 150KW battery sporting over 620 miles of range. 
NIO ET7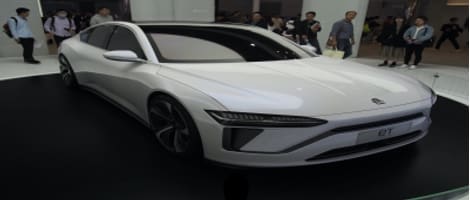 Secondly, NIO had a tough time in 2020. NIO is experiencing tail winds as it heads into 2021.  The new Biden presidency could represent a boon for the company as the Democrat party migrates from fossil fuels based vehicles to all electric vehicles as part of their "green" new deal promise to Americans.  This means that carbon based vehicles could soon be replaced by all electric vehicles in short order.  This situation spurred strong demand for Nio's stock causing it to rise almost 40 points since the November 3rd election. Is NIO the next TESLA?
GIGA TEXAS pressuring Tesla in China?
Nio will grow exponentially going forward in China. We expect NIO to execute plans to expand internationally across the globe.  The expectation is NIO to enter American markets as soon as 2022. NIO will then set their sights on Europe.
So what does this mean for Texans?  Well, with the new "Giga Texas" being built in Austin, NIO is introducing what could be serious competition to Tesla's global dominance.  ELON MUSK is now the richest human on the planet. It could put pressure on Tesla in China and affect strategic decisions (made by Tesla) in the future.  For now, Tesla is planning to complete its Giga Factory 5 (near Austin) by the end of 2021. Incidentally, this is an effort to grab "first to market" status in the United States.  While NIO isn't competing in the US yet, we believe it's just a matter of time, especially with strong backing of the Chinese government along with a slew of international investors.
Finally, there is a great deal of volatility with NIO stock making its options very valuable.  We are selling iron condors against the stock at approximately the one standard deviation range.  Put spreads can be put on at below $40 and call spreads over $80 for a decent amount of risk-adjusted premium and a relatively high probability of profit.