Introduction
Do you crave a crispy, cheesy snack that's impossible to resist? Look no further than Pizza Magic Parmesan Crisps.
These delectable wafers, made with just two ingredients, will tingle your taste buds and leave you craving more.
Whether you're hosting a party or simply looking for a savory treat, these crisps are the answer.
Make the addictively crunchy Pizza Magic Parmesan Crisps at home with 2 ingredients in minutes.
You can make Herbal Italian Pizza Magic Parmesan Crisps or the Sweet & Hot Pizza Magic Parmesan Crisps. The seasonings are Keto Friendly and have no carbs and no sodium and no sugar. How great is that!?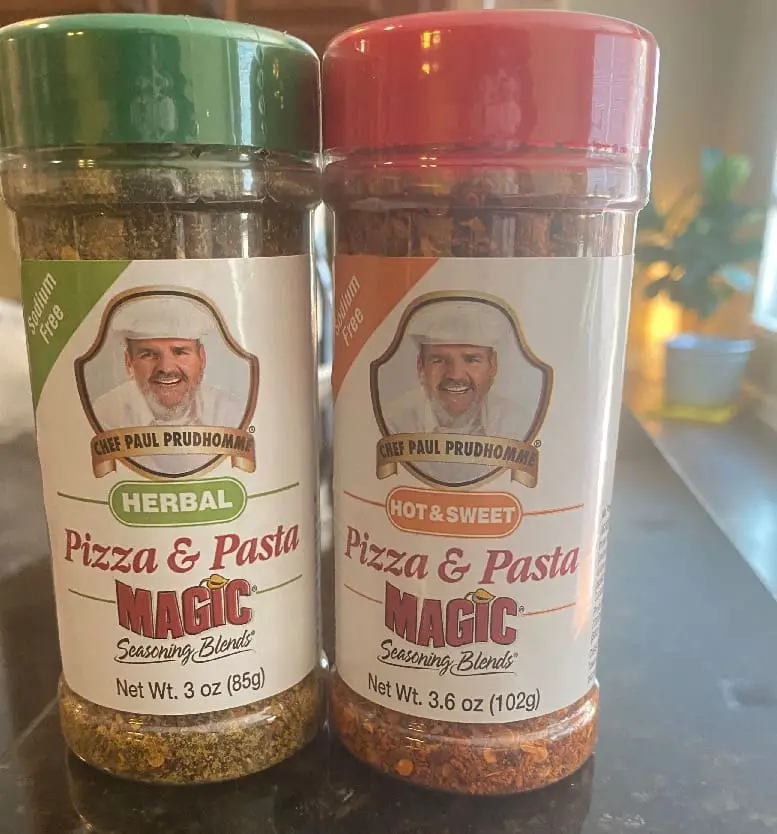 Sweet & Hot Pizza Magic Parmesan Crisps to try at home
Ingredients
1 cup finely grated Parmesan cheese
1 tablespoon Pizza and Pasta Magic seasoning
Parchment paper
Baking sheet
Recipe
Step 1: Preheat and Prepare
Preheat your oven to 400°F and line a baking sheet with parchment paper.
Step 2: Create Crisps
On the parchment paper, create 2-3 tablespoon piles of grated Parmesan cheese. Sprinkle the Pizza and Pasta Magic seasoning evenly over the cheese piles.
Lightly flatten and spread the piles into circles, ensuring even distribution of the seasonings.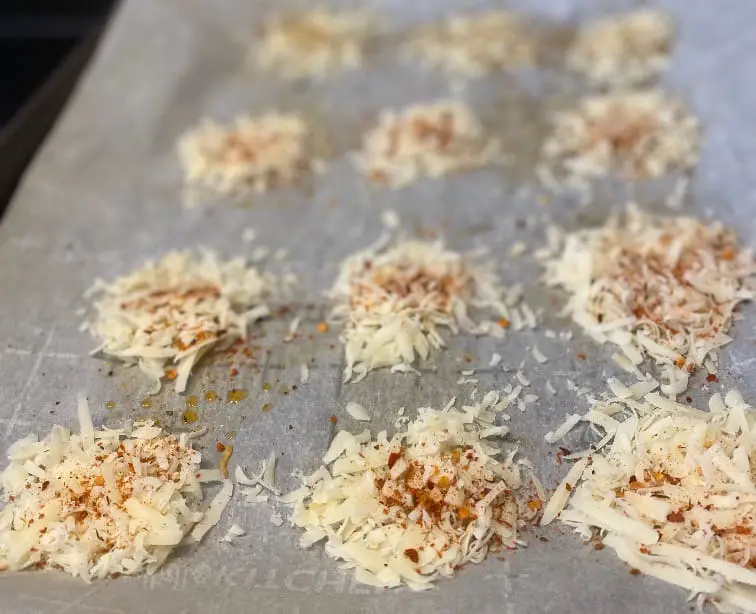 Step 3: Bake to Perfection
Bake for 7 to 8 minutes or until the edges turn golden brown. Avoid overbaking to prevent burning.
Use a spatula to carefully transfer the crisps to paper towels.
Step 4: Enjoy!
Your freshly baked Parmesan crisps are ready to enjoy.
Store any leftovers in an airtight container for up to a week.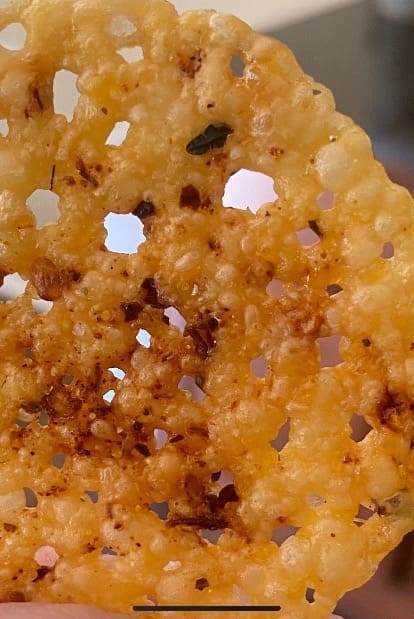 Variations
Explore exciting variations to customize your Parmesan crisps:
Italian Herbs: Add 1 teaspoon dried oregano, basil, and thyme for extra flavor.
Everything Bagel: Coat with sesame seeds, poppy seeds, dried onion, and garlic for a bagel-inspired crisp.
Chili Lime: Season with a pinch of chili powder and lime zest for a zesty twist.
Pizza Style: Top with mini pepperoni slices before baking for a pizza-themed delight.
With just two ingredients, the possibilities for crispy, cheesy goodness are endless.
Whip up a batch for your next gathering, as an after-school treat, or simply to satisfy your snack cravings.
Get creative and make these Pizza Magic Parmesan Crisps your own!
Share your experiences and favorite variations in the comments below. Happy snacking!
Inexpensive Fresh Parmesan Cheese for Pizza Parmesan Crisps
Pizza and Pasta Magic for Pizza Parmesan Crisps
If you use this Amazon affiliate link to buy the seasoning blend we may receive a commission. Thank you so much!
Tips for Perfect Parmesan Cheese Crisps at home
Use freshly grated Parmesan for the best flavor and texture. Pre-grated cheese contains cellulose to prevent clumping which can inhibit crispness.
Any variety of Parmesan works well, from the classic Parmigiano-Reggiano to common grated varieties.
I grate some of the Parmesan cheese on the fine side and some on the thicker side of the grater and mix them together.
Watch closely near the end of baking as they can burn quickly.
If any cheese melts off the wafer and sticks to the parchment, use a thin spatula to gently loosen while hot.
For extra crispness, some recipes suggest adding 1-2 tablespoons of all-purpose flour or corn starch along with the grated Parmesan before baking. This can help absorb moisture for a crispier texture.
Using finely grated Parmesan is ideal, but some recipes call for blending shredded Parmesan with flour or starch to achieve a finer consistency for crisping. Any high-quality Parmesan works.
For a cheese blend, you can use equal parts Parmesan and Romano cheese. The Romano adds a sharper, more pungent kick.
Grating the cheese extra fine and firmly packing it into clumps before baking can further ensure crispness. Grate on a microplane grater if available.
Good quality brands to look for include Parmigiano Reggiano, BelGioioso, Boar's Head, Kraft, Sargento, and Trader Joe's Parmesan. Use fresh grated instead of pre-shredded.
Baking time can range from 5-10 minutes depending on thickness. Watch closely as thinner crisps can burn faster.
Experiment with different flavor combos and ingredient tweaks to make these crisps your own!
My parties have never been the same since I started making my very own Pizza Magic Parmesan Crisps! ⭐⭐⭐⭐⭐ (1239)