Get ready for hurricane season in Texas 2021
When is hurricane season in Texas 2021? If you live in an area prone to tropical storms and hurricanes, you are well aware of the importance of hurricane preparedness. This should be the case if you live in Texas. The state of Texas has had many hurricanes in the past and is the second most affected state in the US after Florida. 
Texas is often hit by winds, heavy rain, storms and terrible structural damage during this time. To prepare for a severe storm, you must consider your property as you do yourself. With experience, it is clear that you need enough time to prepare so you are well protected when the Texas hurricane season 2021arrives. 

So when does hurricane season start in Texas 2021?
Atlantic hurricane season is expected to begin in June 1 and is likely to last through November 30 typically building up in August and hitting its peak in mid-September. Thus, August and September are the most active months. 
According to the national weather service, 2021 has an extreme hurricane season this summer. The leading authority, the National Oceanic and Atmospheric Administration (NOAA), has predicted this 'above-normal' hurricane season with a chance of it being hyperactive.  
This year, the NOAA anticipates between 13 to 20 storms with over 39mph. Of the named storms in Texas, 6 to 10 could become major hurricanes (exceeding 74 mph). The NOAA has 70% confidence in these ranges so it is time to prepare.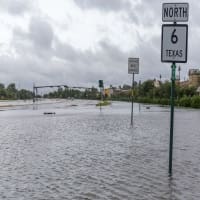 How can Texans prepare for the hurricane this 2021season?
It quickly becomes chaotic when a hurricane hits. Strong winds, sometimes up to 90 mph, flash floods and heavy rainfall can be quite destructive. 
The Texas state website provides a wealth of information via the Texas Hurricane center on how to prepare before, during and after the season. It is only prudent to consider these factors. 
Before the storm in Texas
Be ready for the normal hurricane season in Texas 2021. Make a plan. Be prepared. 
Do the following;
Have an emergency management system in place by putting together a supply kit
Have a communication plan for your immediate family in place
Enlist in your community and county warning systems 
Know your flood risks and enroll for flood insurance which is necessary as homeowner's policies do not cover flooding. It takes up to 30 days for a policy to be operational so do it in advance. The best place to get flood coverage is the National Flood Insurance Program (NFIP).
Store important documents safely in waterproof containers and keep password-protected digital copies of the same 
Declutter drains and gutters in your home, and move your valuables to higher levels 
Most importantly, follow weather alerts 
During the storm in hurricane season in Texas 2021
Stay safe and listen to all local orders
Continue to follow weather alerts 
Keep these emergency contacts and sites in mind –  (2-1-1) for shelter, food and disaster services, Drivetexas.org for flooded roads and conditions Red Cross: Find an open shelter.
Be wary of water-sodden roads, creeks, storm drains, streams and other areas. Do not try to drive across flooded roads, cross flowing streams and observe road barricades for your safety. 
These numbers are important – 7-1-1 for Relay Texas Service, 1-800-525-5555 for roadside assistance and 1-800-452-9292 for TxDOT statewide road closures
After the storm
Listen to your local authorities for special instructions and information
Still, do not try to cross flooded areas. Turn back if you must to avoid the risk of drowning. 
These are vital sites to keep updated on hurricane season in Texas 2021 with dates and information
Hurricane preparedness is important when you reside in hurricane-prone areas. It is prudent to take all the necessary measures to keep you, your family and your home safe. Now that you have the 2021 hurricane season predictions in Texas, there is no reason why you should be caught unawares by wind and water knocking on your door. 
Make a plan so your family knows what to do when the storm heads for Texas. Remember Covid-19 is still a threat, so if you are not vaccinated, follow masking guidelines.