Child Care Relief Fund helping families
The TWC Childcare Relief Fund (CCRF) is here to help families get assistance with their daycare needs. Childcare assistance in Texas is crucial for many Texas families and now available .
While childcare costs in Texas are not among the highest in the country, they remain a challenge for family units across the state.
That said, daycare expenses still pose a crippling threat to parents who may need help as they re-enter the workforce.
2023 income limits for childcare assistance in Texas extends through September November 2023.
Low-income families seeking help should apply now for the 2023 Texas child care relief fund.
As more and more Texans return to on-site work, finding affordable childcare remains a challenge for many.
Unbeknownst to some Texans, childcare assistance in Texas is available for parents that meet certain criteria. The Child Care Relief Fund was replenished with $3.4 billion in 2022 and extended to November 20, 2023.
The fund is bolstering families' abilities to earn income and return to work . Navigating the rules, regulations, and procedures can be overwhelming.
To help you with your day care needs, we will go over, step-by-step, exactly how to receive CCRF funding.
Texas Childcare Assistance Income Guidelines 2023
Family Size
Maximum Annual Income
1
$26,979
2
$36,444
3
$45,909
4
$55,374
5
$64,839
6
$74,304
7
$83,769
8
$93,234
What is the 2023 Income Limit for CCRF Assistance in Texas
| Family Size | Gross Monthly Income |
| --- | --- |
| Two | $4,276 |
| Three | $5,283 |
| Four | $6,289 |
| Five | $7,295 |
| Six | $8,301 |
| Seven | $8,490 |
| Eight | $8,679 |
| Nine | $8,867 |
| Ten | $9,056 |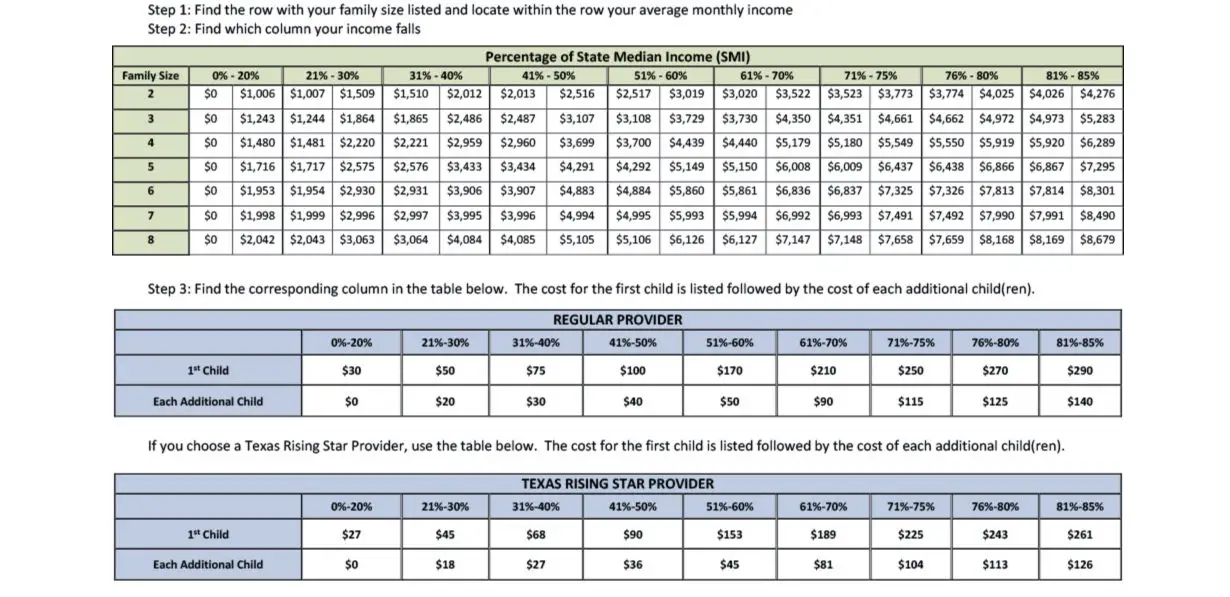 How much does child care assistance pay in Texas?
The amount of childcare assistance paid in Texas varies. First, assistance is determined by income and family size.
Secondly, by the number of children applying for assistance. Third, whether the provider is a regular provider or a Texas Rising Star provider.
For example, if a family size of 4 earns between $2221 and $2959 per month or less, the cost paid for the first child is $75.
Each additional child would cost $30. Assistance if you are using a Texas Rising Star provider would be $68 for the first child and $27 for each additional child.
Step One: Determine eligibility for Childcare Assistance in Texas
First, in order to obtain childcare assistance in Texas, it is imperative to first seek out the qualifications for being approved.
Eligibility and fund disbursement are overseen by the Texas Workforce Commission.
• If you are a resident of Texas, you may be eligible for child care assistance.
• To be initially eligible, single parents must work or be in school at least 25 hours per week, and dual-parent families must work or be in school at least 50 hours (combined) per week.
Families who do not meet these requirements may still qualify if they are searching for work that meets the minimum activity requirements.
• Initial job searches are limited to one per 12-month eligibility period and can last up to three months.
If, by the end of the three months, the family still does not meet minimum activity requirements, their child care assistance will be terminated.
Texas Childcare Assistance Requirements include but are not limited to:
Child must be a US citizen
The child must live in the residence at least 50% of the year
Child is 13 or younger
A child with disabilities 19 years or younger
Each county can have different criteria and limits so it is important to check the local branch of Workforce Solutions for the most up-to-date accurate information.
Please note that some counties are experiencing high volumes of applicants and have had to enact waitlists to accommodate parents.
It is imperative to act quickly in reserving a place in line as funds will eventually become depleted.
Step Two: Locate and gather the necessary documents
Secondly, After determining one's eligibility, the next step is to assess and gather documents to support the information that must be submitted.
All applicants will be asked to submit a valid ID, proof of income or unemployment benefits or a zero income earned statement, as well as identifying documents for each child, and a statement of bank account totals and other assets.
Required Documents in Texas to apply for Childcare Assistance in 2023
If your name is pulled from the waitlist, you will need to submit the following items:
1. Birth Certificate or verification of birth facts for each child in the family.

2. Proof of current residency (Example: Utility bill or lease agreement).

3. Documentation of the most recent three months of income (from employment and other sources of income) for each member of the household. CCS will not collect income information or activity hours for parents that qualify for initial job search child care.

4. Current school schedule and transcripts.

5. Current valid picture ID from each parent/ caretaker.

6. If your child(ren) have a disability, provide documentation such as a letter from a doctor, IFSP from an Early Childhood Program, or IEP from school.

7. Social security numbers are voluntary but appreciated.
Each family has unique circumstances and counties may be slightly different in their guidelines.
Most parents will have to submit proof of employment/wages, work searches being made each week, and/or documentation of a disability.
Also, any other government benefit already being received by the family may be considered, so documentation of those benefits will most likely be required for submission as well.
Workforce Solutions branches are prepared to assist in the application process.
Step Three: Fill out the application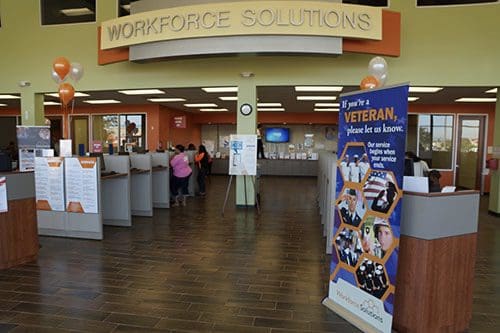 Third, Parents will have to go to the website of their local Workforce Solutions branch and submit an application online.
If internet access or computer access is a limitation in the process, parents can opt to do the application at a Workforce Solutions location where representatives are available to assist with any questions regarding the program and how to apply.
Step Four: Submit the application
Fourth, after completing the application, parents will be expected to successfully submit it along with any required documentation.
Uploading documents with a smartphone or using Workforce Solutions' scanners on-site are both acceptable methods of submission. It is imperative to complete this step perfectly.
It is a good idea to ask questions or for help as opposed to sending in an application that may be rejected. As mentioned earlier, some counties have a waitlist and any delays could cause significantly longer wait times.
Step Five: Wait for a decision
Texas Child Care Solutions requests that parents allow them ample time for the following:
1. Review the application and documents.
2. Perform due diligence.
3. Follow up with questions or requests for documentation not already submitted.
How long does it take to get child care assistance in Texas?
Each county has a different expected time-frames for completing this step, but it is usually around three weeks from submission to approval or denial.
A decision notice is typically mailed and emailed around the third week. If the outcome is unfavorable, parents will have an opportunity to appeal the decision and submit supporting documents.
Not all childcare providers are qualified to receive the subsidy, so vetting options thoroughly is critical.

Step Six: Select a childcare provider in Texas
Upon approval, the next task is to select a valid childcare provider from the list located on the Texas Child Care Availability Portal.
Childcare providers must be registered and/or licensed through the Texas Department of Family and Protective Services or be operated by the United States Military Services.
State of Texas allows 3 types of Childcare providers when financial assistance is provided including relatives
The three types of childcare providers allowed to use while getting aid are:
Registered or Licensed Child Care Home, Licensed Child Care Center, and Approved Relative Child Care provider.

All staff members at Registered or Licensed Child Care Homes and licensed Child Care Centers must meet minimum training requirements related to care and education of children, including CPR and first aid as well as have a high school diploma or GED.
Child care centers operate out of non-residential, commercial buildings. The children are usually divided into groups or classrooms according to age.
Relative providers must be "Listed" with Child Car Licensing, but the program is not monitored by child care licensing or CCS staff .
Childcare providers have other requirements including the obligation to report attendance, they must be willing to accept payment through the subsidy, and they must obtain and maintain Texas Rising Star Certification.
The State of Texas has also allocated assistance for childcare providers in obtaining valid credentials in order to participate.
It is even possible to designate a family member to receive the subsidy so long as they meet the requirements specified by the local Workforce Solutions location or website.
Step Seven: Payments are dispatched to childcare providers
Unless there is an unusual circumstance, the payments will be dispersed directly to the childcare provider.
In most cases, the assistance is intended to cover short-term gaps in family income so that parents may obtain adequate employment.
In some instances, it may be possible to receive longer-term assistance.
Ultimately, Texas Child Care Solutions will determine if a family qualifies for extended childcare coverage based on income, disability status, and other factors.
Parents should report any changes in income or employment status as well as keep accurate documentation of work searches if that was a designated requirement.
he Texas Workforce Commission periodically audits work searches and these audits must pass to continue receiving benefits.
In conclusion, Texans are in a position to receive assistance for their families so that they may pursue employment, career advancement, or training if they meet requirements and remain under certain income limits.
Although the program has been replenished, it will eventually come to a close.
Families are advised to review the program requirements and assess whether or not they should apply.
After approval, parents will be choosing a qualified childcare provider. Families are encouraged to observe the provider and facility prior to locking in the decision.
Unqualified childcare providers have a unique opportunity to apply for assistance in becoming qualified to participate.
Waitlist for child care relief fund in Texas in 2023
Waitlists are often three to six months long, so parents should apply immediately with thorough and accurate details.
Extenuating circumstances to qualify for expedited childcare relief fund in Texas
If a child or parent is disabled, facing other extenuating circumstances, or is homeless, they may qualify for expedited consideration as well as extensions for additional or long-term assistance.
With the economic anxieties and concerns Texans may be facing in 2023, childcare assistance is designed to enable families in succeeding financially.
For some, this program could be the game-changer they needed to move in the right direction.