Sponsored Links
If you're planning a trip to Houston and don't have alot of money to spend on lavish hotels, you should consider some of Houston's well kept secrets.  You don't have to spend an arm and a leg to enjoy Houston, just a little "pre-planning" and you can have a wonderful time with very little money.
Try A Houston Hostel
Hotels in this area can vary widely, with some charging upwards of $500/night.  If you're ok hanging out with some permanent residents and pseudo "hippies", you might want to consider the Houston International Hostel located at 5302 Crawford Street.  This hostel is priced in the $20-25/night range and offers easy access to downtown museums and the light rail, but beware the backpackers and old furniture.  While dated, the hostel sports a full time staff and looks to be safe for its residents.  If you want to make a reservation, just call:  713-523-1009 and the staff their will be glad to make you a reservation for your stay.
How About A Campground?
If "hostels" aren't your thing, why not bring your tent and go camping?  Just 12 miles north of the downtown area, you can find a KOA Campground located at 1620 Peach Leaf.  This site is exceptionally clean and wooded.  Its a stone throw away from George Bush Intercontinental airport and includes a store, laundry and playground for the kids.  Rates are reasonable with tent sites costing around $20/night, and RV sites costing $36/night.  To make a reservation, just phone 281-442-3700 to speak with their pleasant staff members.
Best Places To Eat Cheap
If you're already in the downtown area, be sure to stop by "Les Givral's" on 801 Congress Street.  This location is highly touted by Houston office workers as the "go to" location for Vietnamese cuisine.  Most meals cost between $3 and $8 dollars and all are absolutely "delish!"  If you're curious about their menu, give them a call at 713-547-0444.  The staff their is very friendly and they'll be happy to serve you.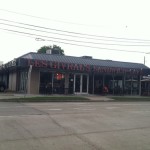 If you're in the mood for a homemade burger, be sure to check out the "Hubcap Grill" at 1111 Prairie Street.  Unbelievably, everything in this restaurant is made from scratch to include their fresh baked buns and hand cut fries.  This is probably my favorite place to eat on the cheap as most meals are $4 to $8 dollars each and I mean to tell you, they really fill you up!  We recommend their "Quadruple Heart Clogger" burger if you need some calories and a little something extra to get you through the day.  All their salads are excellent and you can sit out on the patio if you're there on a nice day.  If you'd like to call ahead, you can call them at 713-223-5885.
If you've got a "hankerin" for some southern cuisine, be sure to stop by the "Zydeco Louisiana Diner" at 1119 Pease Street where good ole fashion Cajun meals can be had for $6 to $9 dollars each.  Crawfish, jambalaya, and etouffee are some of the local favorites, but their po' boys are to die for!  Call and see what their "special of the day" is at 713-759-2001.
We're a little reluctant to tell you about this last recommendation because we'd hate to see it crowded when we go their to eat.  After much debate though, we're going to divulge our "local favorite"…  It's "Treebeards" on 315 Travis Street.  This restaurant is a little more pricey, but certainly not much…. Meals here average from $6 to $19, but the quality of food is nothing short of incredible.  Our favorite dish is the "jerk chicken" which comes served with red beans and rices, as well as buttered corn for right around $10.  This dish is a little spicy, but not over the top and has an addictive quality that we can't quite describe, but it's nothing short of exceptional!  You can call ahead to see if they're doing something different or find out what their specials are for the day at 713-337-7321.
If you'd like to comment, we'd love to hear from you below.
Sponsored Links