Sponsored Links
By Paul Titley, Tex.Org Contributor
Oil field jobs in Texas are growing due to oil's high price and demand throughout the country.  Texas has the highest oil output of any US state – producing around sixty million barrels of crude oil every month.  This equates to approximately one third of the USA's entire crude oil production.  This level of oil production naturally generates a large number of oil-related jobs within the state.
Oil field workers can generally find jobs in the larger oil producing areas of the state.  The largest fields can be found at Spraberry Trend, in West Texas, which spreads over 2,500 square miles, and the East Texas oil fields which contain more oil than any other oil field in the United States.  There are hundreds of oil companies in Texas, and there are a wide range of available jobs for those willing to learn and work really hard.  Contrary to popular belief, oil companies in Texas are not merely seeking employees to assist in digging wells and extracting crude oil.  They are also interested in recruiting jobs away from their drilling platforms.  Jobs like back office accounting and legal work are plentiful in the offices of the most successful firms.  When asked for details of the most recently advertised oil field jobs in Texas, one recruiter provided a surprising breadth of opportunities.
Recent Job Postings
The three most recently posted jobs were advertised by oil companies in Houston and had a wide range of required skill sets.  The first job posting was seeking an office based Data Administrator.  The second, a position opening for a Senior Geo-scientist and the third was seeking an experienced Drilling Engineer.  There are available jobs for office workers, physical jobs out in the fields and potentially, positions with international travel potential for those in sales and business development.  The oil industry in Texas is thriving, so check out the profiles of the oil companies below for detailed opportunities to work in the Texas oil fields.
So who's hiring?
Because we want you to get a good paying job in the industry, here is a list of current employers who are drilling black gold in Texas:
Oil field companies hire a wide range of employees with varying skill sets.  If you don't think you'll qualify for a particular position, go ahead and apply anyway.  Recruiters will review your resume, and if you don't qualify for the specific job you're applying to, you may be matched to another opening that's available within the company.  There are a number of multinational companies that have operations all over the world – and jobs that start out in the oil fields have a significant chance of growing into roles based elsewhere in the US or internationally.
Types Of Oil Field Related Jobs In Texas
The Oil Driller:  The "Driller" is responsible for the entire drilling operation.  This is usually a seasoned veteran in the industry with several years of experience.  The driller typically monitors day-to-day operations, builds his crew, hires and fires personnel and monitors drilling operations while the rig is drilling for oil.
The "Automatic Driller":  This individual is responsible for actually operating the drilling platform and drilling the whole.  This involves monitoring gas levels at each stage of the operation and reporting to the driller whenever a suspected safety issue arises.  The Driller is then charged with assessing the situation and taking preventive measures to ensure a catastrophic event doesn't occur.
The Roughneck:  This is a generic term used to describe the laborers working on or around the rig.  The following is a complete list of roughneck duties:
The oilfield "Roustabout" is responsible for cleaning the rig.  This individual may also be called on to occasionally pain the oil field platform rig during periods of down-time.  This is a very important position for the driller as keeping a clean rig is a critical component of safety making it easy to perform continuous maintenance on the rig.  A good Roustabout can be worth his weight in gold if they're good.  The Roustabout is usually an entry level job that leads to higher paid positions.
The "Toolpusher" is one of the highest position on the rig.  They are usually on site during the day for 8 to 12 hours per day.  The tool pusher's job is to make sure the rig is supplied with everything they need to conduct operations.  They also supervise a number of personnel and are considered to be a serious leader on the rig.
The individual responsible for all the grease that is used for drilling operations is referred to as the "Derrick Hand."  Drilling grease, sometimes referred to as "mud" is used constantly throughout the drilling operation, precipitating the need for the Derrick Hand.  This person also may act in a supervisory capacity when the driller isn't available to give direction.
Entry Level Oil Worker Jobs
Believe it or not, Texas oilfields are a great place to find an entry-level job.  Those graduating from college are beloved by the oil industry as long as they have the right degrees.  There are literally hundreds of vacancies for those with various types of engineering degrees.  The oil industry recruiters are seething to get their hands on you right now.  They usually put their degree'd workers into an internship program, develop them, and will then send you out into the field.  The internships last anywhere from 6 months to well over a year and usually require you to sign an employment contract.  While paid fairly low at the beginning, you can expect to be handsomely rewarded for your patience as long as you produce good quality work.  If you don't have a degree, don't worry and don't be afraid to apply.  While non-degree'd positions are much more competitive, they're still out there and they're still in high demand.  Never, ever be afraid to apply and put in your resume-if you're a hard worker and have a good head on your shoulders, the Texas oil field recruiters are still interested in you.  A piece of advice though…  Try applying directly into the company web sites, like those listed above.  There are far fewer "layers" going this way, rather than applying through the various job boards like Monster and Indeed.  The Floorman is an "entry level job" primarily responsible for performing a series of manual labor tasks all through the rig location, including: rig setup and tear down activities, general repairs and maintenance on rig components, conduct assigned activities on the rig floor, and assisting the Derrickman with mud mixing duties, and numerous other duties.
What About Pay?
Pay in Texas oil fields can be really good.  It's very hard work and you'll spend time away from your family;  but, if you're willing to make the sacrifice, entry-level jobs can pay upwards of $50,000 a year.  Derrick hands can earn in the neighborhood of $70,000, while most offshore workers clear well over a $100,000 with the right skill sets and experience.  If you're ambition is to work on an offshore rig, you'll have to be in exceptional health and be willing to be away from home for a minimum of two weeks per month.  Yes, it's painful but very rewarding financially.  Most people we've met absolutely love it!
The largest proportion of oil field jobs in Texas are either related to the identification or the extraction of oil.  There are also plenty of "back room" business and administrative jobs within virtually all oil companies.  Oil field jobs relating to the physical extraction of oil are often more specialized, and need a combination of experience and qualifications.  For example, a senior drilling engineer will likely be expected to have an Engineering degree from an accredited university, as well of a number of years experience working within the oil industry.
Many oil field jobs, however, do not require the same level of specialization.  Sales, administrative and financial positions will still be appointed based on the applicants level of experience.  The potential employment experience may not require specific oil industry experience.  For example, qualified accountants who have worked for a number of years in a manufacturing or the food industry will have developed the transferrable skills that may attract the oil companies in Texas.
The oil industry in Texas continues to grow as extraction techniques improve and the demand for oil remains high.  While this trend is expected to continue, there will be oil industry jobs in Texas well into the future, many of them with some of the world's largest corporations, providing security and further career growth opportunities for successful individuals.
It's All About Oil Production When It Comes To Jobs
If you're wondering just how much oil is produced in the great state of Texas, just imagine "1.5 million barrels a day"….  That level is up 37 percent from May of 2012 to May of 2013.  In fact, oil drilling permit requests have gone up 13 percent as new drilling techniques are used to drill the Permian and Eagle Ford "Shale" formations.  At the end of the day, this means increased demand and higher wages for Texas oil workers.  If you're on the fence about entering the Texas oil fields, maybe it's time to get off and go apply for one of those high paying oil worker positions.  There's plenty of them out there folks and the pay's actually getting better over time because many of the oil industry workers have migrated north for higher paying jobs, leaving a fairly significant void in the Texas oil fields.
The Eagle Ford Shale Formation
The ability to "frack" oil out of the Eagle Ford Shale formations has added thousands of jobs to the Texas oil footprint.  This formation begins in Southeast Texas and continues all the way up to the Dallas Fort Worth Metroplex.  It contains several hundred drilling operators and continues to produce thousands of barrels of oil daily.  If you're looking for a job in the oilfields, the Eagle Ford Shale locations seen below is a great place to start!  According to stateimpact.npr.org, these drilling operators have already added over $87B in Texas economic impact, and if you're in the industry, you should be getting your share of it, if you're not already.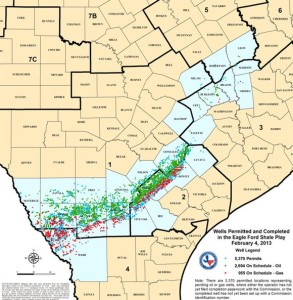 Courtesy of EagleFordShale.Com
Sponsored Links