Dallas Cowboys are getting healthy in Oxnard. Training camp for the Dallas Cowboys resumed in Oxnard, California this year at the River Ridge Playing Fields. A year ago, they held their training camp in Frisco, Texas due to the pandemic restrictions. Branching out from the Dallas metro area gives fans an opportunity to watch America's Team away from the grueling Texas summer heat. Unfortunately, autograph sessions and field access are canceled due to NFL health and safety guidelines and COVID protocols. The Cowboys will continue their training at the Ford Center in Frisco, Texas next week.
Training camp gives the trainers an opportunity to work with those on the Active/Physically Unable to Perform (PUP) list to get them ready for the regular season games. Dallas Cowboys getting healthy in Oxnard in crucial for Greg Zuerlein. He is one of the players receiving special instructions from the trainers after undergoing offseason back surgery. Zuerlein is on track for making an appearance in the upcoming Arizona preseason pregame activities. Special teams coordinator John Fassel predicted that Zuerlein will be kicking at 100% by August 29 or by the season opener against Tampa Bay.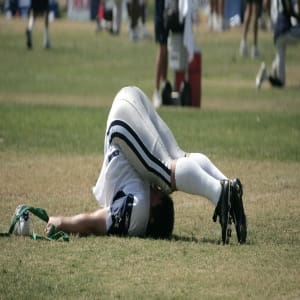 "HARD KNOCKS" for Dallas Cowboys getting healthy in Oxnard training camp
Dallas Cowboys PUP list included 5 additional players
When Training Camp began, the Cowboy's PUP list included five additional players: Amari Cooper, DeMarcus Lawrence, Trysten Hill, Chauncey Golston, and Mitch Hyatt. DeMarcus Lawrence's name scratched off the PUP list for passing his physical on August 3, 2021.  Hill and Hyatt recovered from ACL tears. They were cleared from the PUP list. Chauncey Golston's hamstring mended. It cleared him for practice.  On August 10, 2021, the lone remaining member of the Cowboys' PUP list Amari Cooper passed his physical. They removed him from the PUP list. With this latest improvement, the Dallas Cowboys are getting healthy in Oxnard and training continues. 
August 10, 2021 was a stellar day at the Cowboys Training Camp. Quarterback Dak Prescott was seen throwing passes to receivers including Amari Cooper. August 10 designated as Heroes Appreciation Day during the mock game. More than 1,000 members of the military, medical community, and first responders attended. 
Training Camp is always a battleground for locking in their places on the Cowboys' roster. Hunter Niswander, Zuerlein's replacement in the preseason game against the Steelers last week, is battling Bryan Anger, a newly-signed punter. It's anyone's guess at which one will make the starting lineup.
Dallas Cowboys getting healthy at Oxnard training camp featured in HBO's "Hard Knocks"
The camp battle on defense heated up because Dan Quinn rotates defensive lineman to different locations on the field. Trevon Diggs and rookie CeeDee Lamb are both camp standouts. Cornerback Maurice Canady has also shown his worth on the field during camp. His performance has been questioned after he opted not to play during the pandemic last year. He is battling Trevon Diggs, Anthony Brown, and Jourdan Lewis along with C. J. Goodwin and Reggie Robinson for the CB2 spot. Robinson and Goodwin are also battling it out with Kelvin Joseph and Nahshon Wright for a roster spot. Canady's interception from quarterback Matthew Stafford during play against the Rams set him apart from the others vying for the CB2 spot. 
Dallas Cowboys getting healthy in Oxnard Training Camp is featured on HBO's "Hard Knocks" so that fans have a firsthand look at all the behind-the-scenes activities of America's Team. The 53-man roster is yet to be revealed. Every day at camp determines if their quest for stardom will continue.