In order to operate a motor vehicle in the state of Texas, you know how to pass the driving test. Texans must have a valid drivers license to operate a motor vehicle. The process of getting a drivers license in Texas starts with passing a written exam. This exam covers the rules of the road and safe driving practices. Finally, once you have passed the written exam, you will be able to take the skills test. The skills test is a behind-the-wheel driving test that will assess your ability to safely operate a motor vehicle. Texas issues a drivers license to applicants who pass the written and driving skills test.
The Texas Department of Public Safety strives to keep you, your passengers and other travelers safe on our roadways by providing critical safety information about driving in the state. Please carefully review this handbook which contains valuable tips for staying alive while vehicle ventures across a dangerous terrain – from speeding tickets galore! For more information on how to pass the Texas drivers test, please visit the website of the Texas Department Licensing and Regulation.
Sample questions from the Texas Drivers Test
What is the difference between a stop sign and yield sign in Texas?

A stop sign means that you must come to a complete stop before entering the intersection, while a yield sign indicates that you should slow down and be prepared to stop if necessary.
When should you use your turn signals?
You should use your turn signals when changing lanes, making a turn, or pulling out of a parking space.
How much following distance should you maintain between yourself and the car in front of you?
You should maintain a following distance of at least three seconds between yourself and the car in front of you.
What should you do if you are involved in a minor collision?
If you are involved in a minor collision, you should exchange insurance information with the other driver and file a police report if necessary.
What should you do if you see a pedestrian crossing the street?
If you see a pedestrian crossing the street, you should yield to them and give them time to cross safely.
To obtain a Texas drivers license, applicants must pass a written knowledge test and a driving skills test. The written test covers the material found in the Texas Driver's Handbook, and covers topics such as road signs, traffic laws, and safe driving techniques. The driving skills test assesses your ability to control the vehicle, obey traffic laws, and maintain proper lookout. To help you prepare for the written test, we've provided a few sample questions below. For more information, please consult the Texas Driver's Handbook.
Texas Driver Education – IMPACT DRIVER EDUCATION COURSE
Impact Texas Drivers is the only course that gets you ready for your driving exam. Texans under the age of 25 must complete this approved course.
The ITD course has many different levels, depending upon how old someone will be when they take it! Impact Texas Drivers is an online course to prepare drivers for the driving exam. This organization also offers other courses such as those dealing with traffic laws and accident prevention- so if you're looking into getting your license here in our state then these are great resources!
All driver license applicants must complete the Impact Texas Driv- ers (ITD) course appropriate for their age group prior to taking
the driving exam.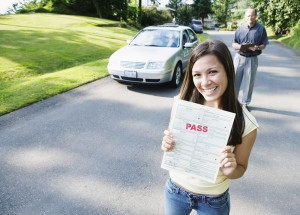 Texas Drivers License Study Guide
If you're looking to get your Texas driver's license, you'll need to study the state's official driver's handbook. This STUDY GUIDE covers everything you need to know about operating a vehicle safely and legally in Texas. You'll find information on topics like basic vehicle control, state traffic laws, and how to share the road with other vehicles. With a little studying, you'll be on your way to hitting the open road in no time!
Texas drivers frequently asked questions
What documents do I need to bring to get a driver's license in Texas?
Social Security card or other acceptable evidence of a social security number
Proof of residential address
Identification documents
Proof of place and date of birth
Proof of insurance or a statement that you do not own a motor vehicle
Can I get a Texas drivers license online?
No. Texans cannot get a drivers license online. An application must be made in person. However, the application can be downloaded.
Who can get a drivers license in Texas?

RESIDENTS: Current Texas residents with a valid drivers license can renew their licenses and new residents who turn in their out of state drivers license.

NON RESIDENTS: A nonresident at least 16 and HAS a valid drivers license issued in the nonresident's home state or Canadian province may drive a vehicle permitted to be operated with a Class C or Class M driver license in Texas.

Non residents 18 years can drive a vehicle in Texas if they are legally licensed to drive in their home state or country. Additionally, the home state or country must grant recognition (reciprocity) to citizens of Texas.

MILITARY: Drivers of an official U.S. or state military service motor vehicle may drive a vehicle without a valid Texas driver license. Commercial motor vehicles are excluded under this provision.

A nonresident on active duty in the U.S. armed forces, their dependent and spouse who already has a valid license.

Active military personnel with a valid driver license issued by the U.S. armed forces in a foreign country can drive in Texas for 90 days from the return date to the United States.

A Texas drivers license will remain valid for those who enter military service forces as long as service continues and are absent from Texas less than 90 days from honorable discharge or returns to Texas.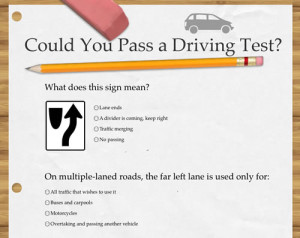 Preparing Your Vehicle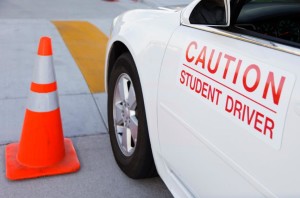 Register the vehicle to pass the Texas driving test  Produce proof of the registration inspection sticker and provide insurance information.  Some requirements are to turn the right and left signal and to push the break to see if the break lights go on and honk the horn. Possess valid vehicle information. Check the brake, the signal lights and horn prior to the road test.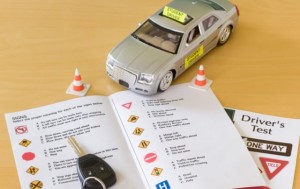 An advantage of taking a defensive driving class is that it will give you the needed preparation to handle sudden changes on the road.  Driver education instructors typically train on the following areas:
Train to become a more aware as driver
Learn to make quick decisions
Discover how you can avoid a possible accident
Have the opportunity to have a traffic ticket dismissed
Have points removed from your driving record to lower insurance
Get an added discount if you are a good driver from auto insurance
When learning how to pass the Texas driving test you can better prepare yourself with proper training to be a responsible driver, learn techniques to avoid accidents and increase your opportunity for lower insurance cost.
Helpful tips from the leaders in online drivers ed and drivers safety courses.
Practice your driving and remember all the road rules and road signs. Pass your behind the wheel test the first time!