How long will the EXTRA food stamps last in Texas 2023? When is the Expiration of Emergency SNAP allotments?
Mobile Grocery Delivery Accepting SNAP
P EBT Texas 2023 extra SNAP approved FEBRUARY 2023
Extra SNAP benefits issued during the COVID-19 pandemic set to expire in March 2023.  Congress passed legislation establishing February of 2023 as the last month people can receive emergency SNAP. According to the Texas governor, this change cannot be appealed. Extra PEBT SNAP food stamp benefits are approved through February 2023.
P-EBT Texas deposit dates February 2023 for extra food stamps on the Lone Star Card
Texas extended the emergency allotment for extra SNAP benefits for the month of February 2023. The extra SNAP benefits will be loaded onto the EBT LONE STAR CARD February 2 and February 6 – 9.
USDA Food and Nutrition Service stated the the extra benefits end after the Consolidated Appropriations Act passed in December.
Texans are asking, "Are we getting extra SNAP benefits for February 2023 in Texas?" GREAT NEWS FOR 1.15 MILLION TEXAS FAMILIES! Texas Emergency SNAP P-EBT Benefits were extended for January 2023 AND FEBRUARY 2023.
PEBT PAYMENT FOR EMERGENCY SNAP IN TEXAS FEBRUARY 2023 WILL BE POSTED February 2 and February 6-9th 2023.
Now, the number of Texas households to receive extra EBT benefits in January 2023 is estimated at 1,353,086. The amount of emergency allotments issued for Texas families is estimated at $280,106,542.
The number of Texas households to receive extra EBT benefits in February 2023 is estimated at 1,337,451 Texas families. The amount of EA emergency allotment for PEBT extra food stamps distributed in February 2023 is estimated at $276,580,938.
READ | Legitimate and easy to get work from home jobs
Governor Greg Abbott announced that TEXAS is extending emergency SNAP (supplemental nutrition assistance program) benefits. Texas emergency food stamps SNAP will extend through the month of January 2023. Texas extended pandemic emergency SNAP benefits through January 2023 until at least February 2023.
READ | BUY GOURMET FOOD GIFTS ONLINE THAT ARE SNAP ELIGIBLE
Texans can swipe their food stamp card (The LoneStar Card) at grocery stores just like a debit card. Many Texan retailers are accepting online SNAP purchases and pick up and delivery programs, less the fees. Texans can even buy Shari's Berries online with a Lone Star Card for a loved one for Valentine's Day online.
READ |2023 Income Limits and Requirements for Childcare Assistance in Texas
The maximum allowable amount of SNAP benefits to recipients based on family size has been approved. HHSC received approval from the Department of Agriculture, and all SNAP households will receive a minimum of $95. Millions of dollars for extra EBT in Texas emergency allotments is going out to nourish Texas families which is important to Governor Gregg Abbott.
The minimum amount being allotted is $95.
READ| Buy gourmet gifts online with Texas food stamps
BEST SELLERS ON AMAZON: GROCERY AND GOURMET FOOD
Extra food stamp SNAP Benefit PEBT 2023 TEXAS approved February 2023
Texas HHSC announced SNAP benefits are available to state residents in JANUARY and February 2023. SNAP benefits get loaded monthly on Lone Star Cards which is Texas version of EBT.
Benefits will be staggered. January 2023 TEXAS EXTRA FOOD STAMP SCHEDULE will be distributed on the Lone Star Card between 3rd & 5th and 9th and 10th of January 2023.
P – EBT Texas extra food stamps in February 2023 deposit dates are February on the 2nd and the 6th through the 9th of February.
Are we getting extra food stamps in January and February 2023 in Texas?
Yes, TEXAS EXTRA SNAP benefits for January 2023 or pandemic food stamps was extended through January 2023. The PEBT BENEFITS will extend through January and February. You will receive the extra food stamps through February 2023. There is a transition month allowing states to issue the extra food stamp SNAP benefits one month after the emergency declaration of the federal public health emergency.
HOW LONG WILL THE INCREASE IN FOOD STAMPS LAST IN TEXAS February 2023 ?
Extra food stamp benefits will last as long as TEXAS submits the application indicating the following:
1. Texas residents are confirmed to have COVID-19
2. Some areas if not all in TEXAS are quarantine zones
3. Restaurants and other businesses have closed or reduced their open hours significantly
4. Texas experiences financial and economic impact to to job losses.
When will the extra food stamps end in Texas 2023?
The declaration was made to end COVID-19 Emergency EXTRA FOOD STAMPS IN March 2023 in Texas.
TEXAS EMERGENCY SNAP IS APPROVED through JANUARY 2023 AND FEBRUARY 2023
ALABAMA
CALIFORNIA
COLORADO
DC
Delaware
HAWAII
ILLINOIS
Louisiana
KANSAS
Maine
MARYLAND
MICHIGAN
NEW HAMPSHIRE
North Carolina
NEW JERSEY
NEW MEXICO
New York
NORTH CAROLINA
OHIO
OKLAHOMA
OREGON
PENNSYLVANIA
RHODE ISLAND
SOUTH CAROLINA
TEXAS
UTAH
WASHINGTON
WEST VIRGINIA
WISCONSIN
Texas Food Stamps schedule in February 2023 : When will Texas load the February 2023 extra food stamp benefits on the Lone Star Card?
TEXAS EMERGENCY SNAP food stamps was approved for February 2023. Emergency snap was previously approved through AUGUST , SEPTEMBER, OCTOBER and NOVEMBER and DECEMBER 2022 and now approved for JANUARY 2023 and FEBRUARY 2023. Governor Gregg Abbott announced extension of P-EBT through FEBRUARY 2023.
Texas extra SNAP EBT benefits approved for FEBRUARY 2023.
When is Texas SNAP depositing the PEBT in FEBRUARY 2023?
PEBT EMERGENCY ALLOTMENT for extra monthly food stamps in Texas will be distributed to the Lone Star card February 2 & 6th and 9th 2023.
More good news for Texans is that recipients of SNAP, Texas Food Stamps, will include a 12.5 percent cost of living increase. It is called COLA which is a cost of living allowance or adjustment. Rising food costs is a huge concern for Texas food stamp recipients.
February 2023 Texas SNAP income limits will be based on family size
Over a million Texas households will receive extra EBT benefit on the Lone Star Card. TEXAS SNAP household recipients will have the additional amount on their LONE STAR CARD.
Many Texas citizens and families are thankful to Gov. Abbott and his administration for the Texas Emergency SNAP approval.
| HOUSEHOLD SIZE | MAXIMUM MONTHLY FOOD SNAP BENEFIT IN TEXAS 2022 |
| --- | --- |
| 1 | $250 |
| 2 | $459 |
| 3 | $658 |
| 4 | $835 |
| 5 | $992 |
| 6 | $1190 |
| 7 | $1316 |
| 8 | $1504 |
| Each additional person | $188 |
WHAT IS THE MAXIMUM AMOUNT OF SNAP BENEFITS I CAN GET IN TEXAS?
Make SNAP online purchases from Amazon and Walmart and other merchants.
| Texas Household Size for SNAP BENEFITS | Monthly Income Limit for Food Stamps in Texas 2022 |
| --- | --- |
| 1 | $1775 |
| 2 | $2396 |
| 3 | $3020 |
| 4 | $3644 |
| 5 | $4268 |
| For every additional person | $625 |
WHAT IS THE MAXIMUM AMOUNT OF SNAP BENEFITS I CAN GET IN TEXAS
How do I apply for TEXAS EMERGENCY SNAP BENEFITS in JANUARY and February 2023?
What is the Texas EBT phone number?
If you already have a food stamp card (the Lone Star Card) or EBT Card, call 800-777-7328.
If you need to apply for a card, call 877-541-7905.
Texas Food Stamp Phone Numbers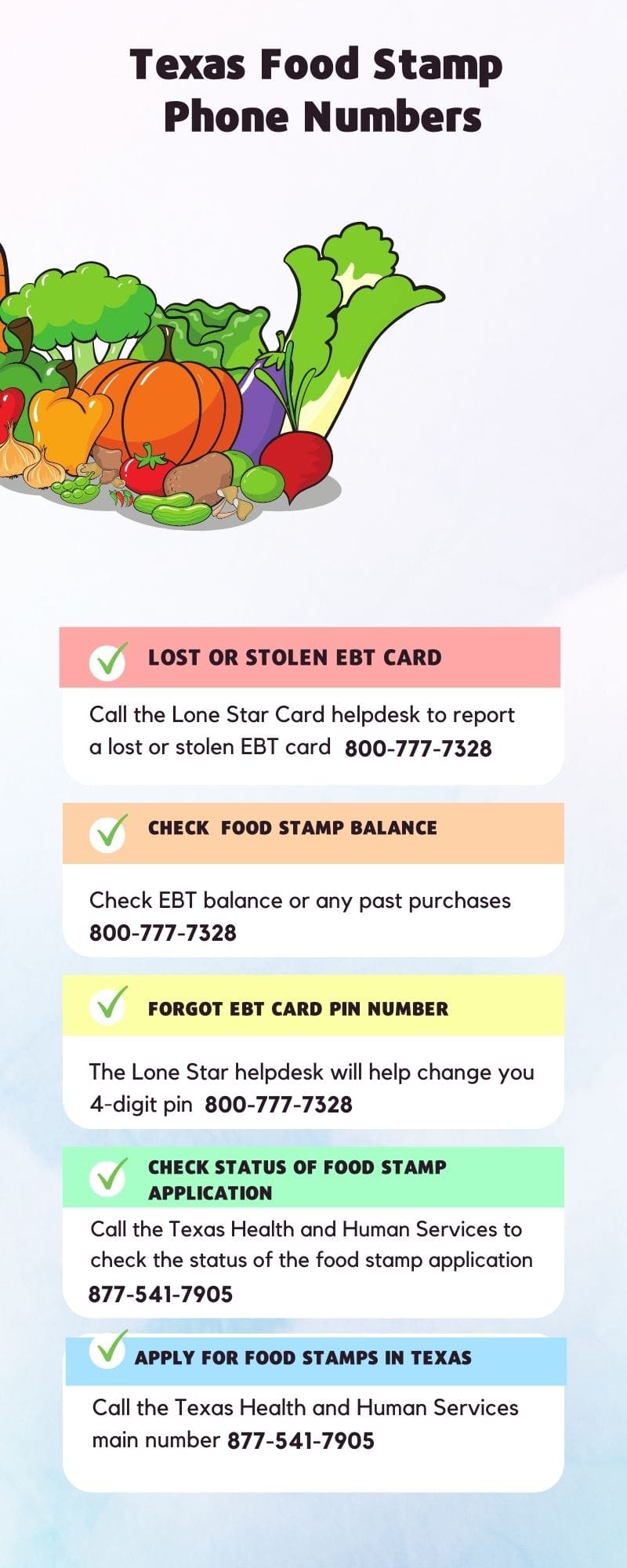 SPANISH APPLICATION | ENGLISH APPLICATION
APPLY ONLINE AT YOUR TEXAS BENEFITS
CALL (877) -541-7905
Local Food Stamp Office
Will Texas issue extra food stamps in January and February 2023?
Texas extra food stamp benefits (EBT BENEFITS) for January and February COVID SNAP was approved.
Yes, the EBT payments will be staggered February 2nd and then 6th through the 9th.
EDG SNAP NUMBERS PAYMENT SCHEDULE FEBRUARY 2023
In the past, this was the EDG SNAP benefit payment schedule in Texas. "For SNAP EDG numbers ending in 0 and 1, benefits will be available on Dec 1 and Dec 3. For those with 2 and 3 ending their EDG numbers, SNAP benefits are distributed on December 5 and December 6. 
Beneficiaries with SNAP EDG digits ending in 4 and 5 will have theirs on December 7 and December 9. It will then continue on December 11 for those with EDG numbers ending in 6. 
Recipients with EDG numbers ending in 7, 8, and 9, will receive their benefits to their Texas Lone Star cards on December 12.
You may get TEXAS SNAP benefits the next day if you say yes to these questions
Migrant or seasonal farmworker?
$100 or less in cash or in the bank? Do you expect to earn less than $150 this month?
Housing or utility bills are more than all the cash you have including in the bank including your income this month?
DOWNLOAD TEXAS SNAP APPS
Texans can apply for benefits at yourtexasbenefits.com or use the apple YOUR TEXAS BENEFITS mobile app today or YOUR TEXAS BENEFITS mobile app for android.
Pandemic Electronic Benefit Transfer (P-EBT) is a one-time benefit for families with children who received free or reduced-price school meals. For more information click HEALTH AND HUMAN SERVICE PANDEMIC EBT or call 833-613-6220.
How does my child become eligible for the NSLP National School Lunch Program in 21-22?
If your child does not attend a Community Eligibility Provision (CEP) or Provision 2 (P2) school, you must complete a NSLP household application and be certified eligible by the child nutrition department. It is recommended that you submit it to your child's school no later than April 29, 2022. Contact your child's school for more information and to request an application. If your child or household participates in other state programs such as SNAP, Medicaid, or TANF or has foster, migrant, or homeless status, they are considered directly certified and do not need to complete a NSLP household application.

hhs.texas.gov