Get in touch with Texas' top oilfield recruiters. Oil field jobs in Texas are growing due to oil's high price and demand throughout the country.  
Texas has the highest oil output of any US state. It produces around 135 million barrels of crude oil every month.
This equates to approximately one third of the USA's entire crude oil production.  This level of oil production naturally generates a large number of oil field jobs in Texas.
Some of the best and most popular areas for drilling include: The Spraberry Trend in Western Texas, The Yates Oil Field in Western Texas and The East Texas Oil Field.
Texas' top oilfield recruiters are hiring
Oil field workers with no experience can generally find jobs in the larger oil producing areas of the state.  
The largest fields are at Spraberry Trend, in West Texas (a large area within the Permian Basin). That area spreads over 2,500 square miles and has historically yielded millions of barrels of oil over the years.
The East Texas oil fields contain more oil than any other oil field in the United States.  
There are hundreds of oil companies in Texas with a wide range of available jobs for those willing to learn and work really hard.  
Contrary to popular belief, oil companies in Texas are not merely seeking employees to assist in digging wells and extracting crude oil.  
They are also interested in recruiting jobs away from their drilling platforms.  Jobs like back office accounting and legal work are plentiful in the offices of the most successful firms.  
When asked for details of the most recently advertised oil field jobs in Texas, one recruiter provided a surprising breadth of opportunities.
Texas' Top OilField Recruiters want you today
Recent Job Postings for Oilfield Jobs in Texas
The three most recently posted oil field jobs in Texas were advertised by oil companies in Houston and had a wide range of required skill sets.  
The first job posting of oilfield jobs in Texas was seeking an office based Data Administrator.  
The second, a position opening for a Senior Geo-scientist and the third was seeking an experienced Drilling Engineer.  
There are available jobs for office workers, physical jobs out in the fields and potentially, positions with international travel potential for those in sales and business development.
 The oil industry in Texas is thriving, so check out the profiles of the oil companies below for detailed opportunities to work in the Texas oil fields.
Rigzone is the perfect place to start. Because we want you to get a good paying job in the industry, here is a list of current employers who are drilling black gold in Texas:
Nabors Industries centers of employment in Texas are Odessa, San Antonio, Tyler, Crosby and Houston.
Nabors owns and operates the world's largest land-based drilling rig fleet and is a leading provider of offshore platform workover and drilling rigs in the U.S. and multiple international markets.
Transocean: is an off shore employer who may not be readily found on the job boards.  
They are a publicly traded company doing business across the globe.  Ironically, their website is http://deepwater.com.  
Visit them to apply with a great company.  
They operate in Texas from their Houston office located at:  4 Greenway Plaza, Houston, TX 77046.  Their phone number at this office is (713) 232-7500.
Chevron
Chevron:  After checking their web site, we decided to add Chevron to our list of potential employers.  
We noticed right away, that Chevron is a "powerhouse" when it comes to oil field employment.  Chevron has more than 190 available vacancies just in the state of Texas.  
They also hire on a global scale with positions ranging from South America to the Far East.  After taking a look at Chevron's benefits package, we thought we'd suggest them in this article as they are nothing short of a GIANT in a huge industry.  
Their compensation package suggests that they value their human capital and take very good care of their employees.  
You can apply right on their site at Chevron Jobs.
Texas Pride Fuels Ltd: Texas Pride Fuels is an experienced full service diesel and lubricant supplier to the oil and gas industry.
They specialize in on-site, 24-hour frac service all over Texas, Oklahoma, and Louisiana. Jobs are plentiful and are listed here.
Precision Drilling: Precision Drilling dates back 65 years providing high quality customer service. Want to be a toughneck?
They are hiring now. Want to work internationally? Precision's international services include: Oil and gas drilling: High pressure, high temperature drilling: Gas-liquids and heavy oil drilling: Custom rig configurations and manufacturing: Completion & Production.
CNC Oilfield Services meets needs in the oilfield including containment berms, vacuum truck hauling, frac tanks, wash crews and equipment rentals.
Those are some of the offered customizable services.
Basic Energy Services (ACQUIRED BY RANGER ENERGY SERVICES) provides services maintaining the flow of oil and natural gas through the productive life of a well.
Well site services in the United States ranges from well servicing to water logistics to completion and remedial services.
Sugar Cane Energy Services
In oilfield job news from the Lone Star State, oilfield services company Sugar Cane Energy Services has announced a total of 90 oil field jobs to be offered in Texas over the next few weeks.
Employers hiring oil field workers now and during the fall include oil field service companies such as Sugar Cane Energy Services, oil and gas employers – oil companies – oilfield service providers operating in the oil fields of Texas.
Job seekers interested in oil field jobs or oil rig jobs can find oil industry employment opportunities available in areas such as western and central Texas, including oil rigs near Odessa, Midland and El Paso. They can also find work across the southeast portion of the state as well as other locations throughout the state.
Oil companies hiring near Houston
Other oil companies hiring oil field workers near Houston include oilfield operators Rosene, Maverick and Marathon Oil Corporation – types of oil jobs from entry-level to senior level professionals.
Other oil companies hiring now who have oil jobs in Texas include oilfield oil industry services company Baker Hughes, oil and gas job opportunities available with oil field service provider FTS International.
Oil field companies hire a wide range of employees with varying skill sets.  If you don't think you'll qualify for a particular position, go ahead and apply anyway.
 Recruiters will review your resume, and if you don't qualify for the specific job you're applying to, you may be matched to another opening that's available within the company.  
There are a number of multinational companies that have operations all over the world – and jobs that start out in the oil fields have a significant chance of growing into roles based elsewhere in the US or internationally.
Oil Field Drivers Needed in Texas
Types Of Oil Field Jobs In Texas
Oil field jobs in Texas are not hard to find. In fact oil business in the Lone Star State is roaring again, with oil prices having jumped fast off of rock bottom prices (around $26 per barrel) and more oil wells being drilled than at any point since 2012.
This oil renaissance has brought new oil rigs into operation, re-hiring oil workers that were laid off during the bust years of late 2014 through the end of 2015 when oil prices dropped below $30 per barrel on their own accord (I'm guessing).
We all know about energy independence and how it makes America great again or something like that, but what does this boom for oil mean for you? It means jobs.
As long as oil producers are making oil will be available.
There is always room for oil workers at oil companies. These oil companies are the ones doing exploration– drilling wells to find oil, creating the infrastructure to get that oil out of the ground and refine it into usable natural gas or crude oil, refine that natural gas into gasoline, move gasoline to consumers via trucking or other methods, build refineries or take advantage of existing refineries near shale fields, etc., etc.. 
Another way to look at it would be this: there is no need for people like you (hopefully) if there isn't an energy industry.
Different types of oilfield service providers
So let's get up close and personal with these oil field jobs in Texas and oilfield service providers are selling oilfield services.
As I've alluded to, there are a lot of different types of oil field job out there, so let's take a look at the notable ones:
Driller: The driller is probably the most well known type of oil worker– this person operates and controls the drill rig that drills into the ground in search for oil.
Drillers usually work long days and stay away from home for weeks at a time. For this type of life style you can expect pay as high as $100k or even more per year depending on experience and location. This is one area where competition is fierce.
Safety
Safe oilfield jobs in Texas are anything but boring. Similar to the driller, safety managers and supervisors also work long hours.
You will need oilfield experience in order to get these jobs. But unlike drillers, safety is more of a behind-the-scenes job where you watch over worker safety on oil wells and oil rigs plus supervise other oil field workers as well as ensure compliance with OSHA regulations among other sets of oil industry guidelines or laws.
Toolpusher
The toolpusher is the oil rig manager running the show from a central location managing all aspects of oil production via computers and mobile devices so that operations can be monitored from afar.
As the name implies, the toolpusher ensures that things run smoothly on oil wells and oil rigs. Sometimes oil companies will hire oilfield workers with no oil experience for this job as it is more about overseeing oil production than actually getting one's hands dirty or working hard doing manual labor. This oilfield job typically pays around $100k per year.
Driller Supervisor
The drill supervisor works alongside the driller to ensure that drilling operations run smoothly and without problems such as those that could lead to a dangerous situation or oil well malfunction and resulting loss of oil production and revenue.
If you've worked on oil rigs before, then you might want to jump through the hoops necessary to become a drill supervisor– this field where I find these oil industry jobs in Texas tends to favor experienced hands over inexperienced ones, as oil companies take oilfield experience as a sign of commitment and seriousness.
Oil Field Engineer
Working in the oil patch can pay surprisingly well given that they don't actually go out to oil wells or oil rigs and physically perform the work needed to get oil production going.
Instead, oil engineers take care of all things necessary to make sure oil production runs smoothly– you know, using 2-3 letter abbreviations which mostly only people with degrees from expensive universities understand.
In laymen's terms, oil engineering is all about ensuring that oil production goes smoothly from start to finish without any kind of problems such as those which could lead to lost oil production due to malfunctioning equipment.
This means daily monitoring and tweaking of oil equipment and oil production. The oil engineer is the oil worker who makes sure oilfield workers have a nice warm home to go back to when they have been out in harsh elements for weeks at a time taking samples from oil wells before sending oil output off to oil processing plants or oil refineries.
This type of oil field job typically pays around $125k per year, and maybe even more depending on experience and location.
Oil Field Truck Driver
This falls under manual labor, but it's interesting nonetheless– oil field truck drivers work with tanker trucks to transport oil from one place to another.
I guess this would be considered a subset of transportation among other things like working on roads, etc.. Oilfield trucking jobs typically pay around $80k per year.
Oil Well Pumper
Oil well pumpers are oilfield workers who work with oil equipment to get oil production started, ensure oil production continues at full capacity, and maintain oil wells throughout their lifetimes which can last many decades or longer depending on oil company investment into oil wells that could easily run into the tens of millions of dollars (oil well drilling equipment is expensive!).
If you think about it, oilwell pumping is similar in some ways to how human hearts work– they both need constant pressure to succeed. You might be aware of this if you've ever seen a heart monitor during surgery.
That type of medical device uses special sensors (e.g., your doctor might call them electrodes) to monitor heart electrical activity to help him or her determine if there are problems with the patient's heart.
Oil well pumping equipment similarly works on oil wells– oil well pressure is constantly monitored, and oil well pumpers adjust oil production accordingly.
Roustabouts
Roustabouts are oil and gas industry workers who perform general maintenance and oilfield operations. At an oilfield, a roustabout may be called upon to do tasks such as:
– maintaining oilfields equipment, such as mud pumps and oil well casings
– cleaning up oil spills that happen at oil wells
– moving or transporting oil pipelines
– operating oil production tools during work hours
What is the difference between an oil rig hand and a roustabout?
Oil rig hands
Oil Rig hands operate machinery on oil rigs while roustabouts maintain them. Oil field jobs in Texas usually require hard physical labor depending on what type of job one holds.
Roustbouts are entry level positions in the petroleum industry. These workers are oil and gas industry workers who perform general maintenance and oilfield operations.
Areas of Texas hiring oil field workers:
– oil field jobs in texas
– oil rig hand
– roustabout
– oilfield services companies
– oil & gas production companies
– exploration & drilling companies
Derrick Hand
A derrick hand typically works on either a rotary or cable tool drilling rig, gaining experience in this entry-level oilfield position before moving on to other oilfield jobs after gaining necessary training and knowledge.
The derrick hand physically assists pipe handlers known as "tool pushers" during the process of lifting heavy equipment into place along with maintaining general cleanliness by sweeping floors and picking up trash while at work.
The individual responsible for all the grease the is used for drilling operations is referred to as the Derrick Hand. Drilling grease, sometimes referred to as "mud" is used constantly throughout the drilling operation, precipitating the need for the Derrick Hand.
Service Operator
A Service Operator operates well logging equipment at a job site. Under direct supervision, rigs-up and rigs-down surface and down hole well logging equipment on work locations for the purpose of recording information about sub-surface geologic formations.
Rigs-up and rigs-down surface and down-hole well logging equipment including electric, nuclear, sonic, other well logging tools, and pressure control equipment. High School Diploma and CDL is required.
Oilfield Cementing Operator
Not everyone is suited for oil industry employment.
For example, if you have a background in science or engineering there are oil field jobs available that provide excellent pay and benefits.
Managers with experience in oil field operations can be very helpful when attempting to find oilfield jobs in this part of the country.
Oilfield cementing is one of the most complicated types of oil rig worker jobs out there – you will need several years experience working on fishing vessels with deep sea drilling equipment before you even consider becoming an oil field cementer!
Oil Field Cementing Operator
Under direct supervision, the cementing operator rigs up and rigs down cementing service equipment on work locations to include spotting of cement storage vessels, pre-mixing of spacer fluids, identifying additives to be mixed on-the-fly, rigging-up appropriate data monitoring equipment, planning emergency backup equipment and contingencies. 
Learns to perform pre-job calculations related to: pipe capacities and volume/height math, plug landing pressures, absolute volumes (including total water requirements for job), hydrostatic and differential pressure, resulting forces, balanced plugs, bulk cement blending, calculations to include liquid additives and weighted spacers, and pressure to reverse.
Roughneck
Oil field jobs in Texas are categorized into roughneck jobs (laborers who perform duties that support oil production) Labor would include anything involved with connecting pipe around the well bore.
Non-roughneck oil field jobs (professionals not directly involved in oil extraction). Some oil rig worker positions include derrickman, floor hand and driller.
Non-roughneck oil field jobs include accounting, human resources and law enforcement.
Automatic Driller
This individual is responsible for actually operating the drilling platform and drilling the whole.  
This involves monitoring gas levels at each stage of the operation and reporting to the driller whenever a suspected safety issue arises.  The Driller is then charged with assessing the situation and taking preventive measures to ensure a catastrophic event doesn't occur.
Floor Hand
The Floor Hand has responsibility for executing the day to day operations within company guidelines and policies as directed by the senior rig personnel.
The Floorhand participates in a variety of activities in repairing, maintaining, cleaning, and operating rig equipment. The Floorhand works under the close supervision of the Driller, but reports directly to the Rig Manager.
Oil & Gas Recruiters for Entry Level Oil Worker Jobs in Texas
Believe it or not, Texas oilfields are a great place to find an entry-level job.  Those graduating from college are beloved by the oil industry as long as they have the right degrees.  There are literally hundreds of vacancies for those with various types of engineering degrees.
 The oil industry recruiters are seething to get their hands on you right now.  They usually put their degree'd workers into an internship program, develop them, and will then send you out into the field.
 The internships last anywhere from 6 months to well over a year and usually require you to sign an employment contract.  
 If you don't have a degree, don't worry and don't be afraid to apply.  While non-degree'd positions are much more competitive, they're still out there and they're still in high demand.  
Never be afraid to apply and put in your resume. Oil field jobs with no experience are plentiful at Haliburton.
Oil Field Recruiting Agencies in Texas
If you're a hard worker and have a good head on your shoulders, the Texas oil field recruiters are still interested in you.  A piece of advice though…  Try applying directly into the company web sites like those listed above.  
There are far fewer "layers" going this way, rather than applying through the various job boards like Monster and Indeed. 
The Floorman
The Floorman is an "entry level job" primarily responsible for performing a series of manual labor tasks all through the rig location, including: rig setup and tear down activities, general repair and maintenance on rig components, conducting assigned activities on the rig floor, and assisting the Derrickman with mud mixing duties, and numerous other duties.
OIL JOB FINDER for a membership fee you can find most jobs that are not posted in other locations.
Pay for Oilfield Jobs in Texas
Pay in Texas oil fields can be really good.  It's very hard work and you'll spend time away from your family;  but, if you're willing to make the sacrifice, entry-level jobs can pay upwards of $50,000 a year.  
Derrick hands can earn in the neighborhood of $70,000, while most offshore workers clear well over a $100,000 with the right skill sets and experience.  
If your ambition is to work on an offshore rig, you'll have to be in exceptional health and be willing to be away from home for a minimum of two weeks per month.  Yes, it's painful but very rewarding financially.  Most people we've met absolutely love it!
The largest proportion of oil field jobs in Texas are either related to the identification or the extraction of oil.  There are also plenty of "back room" business and administrative jobs within virtually all oil companies.  
Oil field jobs relating to the physical extraction of oil are often more specialized, and need a combination of experience and qualifications.  
For example, a senior drilling engineer will likely be expected to have an Engineering degree from an accredited university, as well of a number of years experience working within the oil industry.
Oilfield jobs include sales, administrative and financial positions
Many oil field jobs in Texas, however, do not require the same level of specialization.  Sales, administrative and financial positions will still be appointed based on the applicants level of experience.
 The potential employment experience may not require specific oil industry experience.  For example, qualified accountants who have worked for a number of years in a manufacturing or the food industry will have developed the transferrable skills that may attract the oil companies in Texas.
In 2021, the oil industry stands on shaky ground. Many oil companies have been feeling out their futures these days while still trying to keep a positive outlook on things, especially as oil prices seem unlikely to increase by any significant margin.
After all, whether or not oil production continues being a major source of energy depends on how much time we have until it's gone for good.
It's All About Oil Production When It Comes To Jobs in Texas
If you're wondering just how much oil is produced in the great state of Texas, just imagine "4.8 million barrels a day (Calendar Year 2020)"….  As 2021 ramps up (post COVID-19), production is beginning to build again.
With production currently standing at 4.5 million barrels a day, the industry is showing no signs of slowing dowm. In fact, oil drilling permit requests have gone from 456 in April of 2020 to 732 in April of 2021, up 61 percent over previous year's level.
The majority of these permits are focused on new drilling locations in the Permian and Eagle Ford "Shale" formations.  At the end of the day, this means increased demand and higher wages for Texas oil workers. 
If you're on the fence about entering the Texas oil fields, maybe it's time to get up and go apply for one of those high paying oil worker positions. 
There's plenty of them out there folks and the pay's actually getting better over time because many of the oil industry workers have migrated north for higher paying jobs, leaving a fairly significant void in the Texas oil fields.
The Eagle Ford Shale Formation
The ability to "frack" oil out of the Eagle Ford Shale formations has added thousands of jobs to the Texas oil footprint. 
This formation begins in Southeast Texas and continues all the way up to the Dallas Fort Worth Metroplex.  It contains several hundred drilling operators and continues to produce thousands of barrels of oil daily.  If you're looking for a job in the oilfields of Texas, the Eagle Ford Shale locations seen below is a great place to start! 
According to stateimpact.npr.org, these drilling operators have already added over $87B in Texas economic impact. If you're in the industry you should be getting your share of it if you're not already.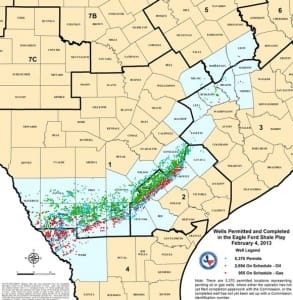 **Photo courtesy of EagleFordShale.Com**
Working in the oil fields in Texas is very demanding. If you're in good physical condition and willing to go through training, consider an oilfield job.  We're working on a series of pieces that explores different opportunities for high demand jobs.