Dallas Cowboys thwarted in week 1. They faced off against the defending Super Bowl champions, Tampa Bay Buccaneers, for their season opener. It was a tough loss for the Cowboys after a hard-fought battle. The Cowboys led by a point until the clock was winding down and the Bucs were able to get a game winning field goal. The final score was 31-29. Although it was a loss, the Cowboys held their own on the field against the best team in the league a year ago. 
Dak Prescott's arm and ankle appeared to be in good condition after 48 weeks off the field. He threw three touchdown passes and was 32 of 58 completions for 403 total yards. He also threw one interception. Carlton Davis was able to pick off Prescott's pass. Buccaneer Ronald Jones fumbled the football and contributed to a touchdown for the Cowboys.
Receivers Amari Cooper and CeeDee Lamb were able to make 20 catches and racked up 243 yards for the Cowboys offense. Cooper's 13 catches included two touchdowns. He caught a 21-yard touchdown pass to make the score 28-26 at the end of the third quarter. The Cowboys offensive strategy relied heavily on Prescott's passing game. Ezekiel Elliott rushed only 11 times and gained only 33 yards.  
Tom Brady's pass fumbled and Diggs was able to snatch loose ball
Safety Damontae Kazee was able to force a fumble from Chris Godwin. With excellent teamwork, Jourdan Lewis was able to recover the fumble. Known as the 'bounce-back' player, Lewis was able to make his presence known on the field and show his value on defense. Trevon Diggs was able to intercept one of Tom Brady's passes that had fumbled. Dallas Cowboys thwarted in week 1. Showing teamwork, Leonard Fournette tipped the pass, and Diggs was able to snatch the loose ball.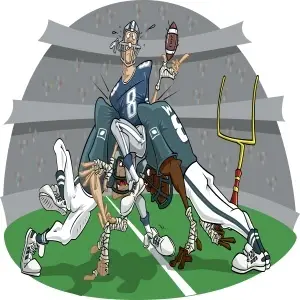 Dallas Cowboys thwarted in week 1and are facing Week 2 and beyond without two of their offensive starters. Michael Gallup and La'el Collins are both sidelined for at least five weeks, but they are sitting out the games for very different reasons. Michael Gallup was injured during the season opener at Tampa Bay. It is likely that Gallup will be sidelined until mid-October because of the calf strain.  La'el Collins has been suspended without pay for violating the NFL substance abuse policy. He will be eligible to play again after October 18, 2021. Collins has been the starting right tackle. 
Coach McCarthy has some tough decisions to make to fill in for the two missing offensive starters.  Ty Nsehke and Terence Steele will likely be tapped to replace Collins. Zack Martin is another option for the spot because he played right tackle a year ago. Martin was unable to play in the season opener because he had tested positive for COVID-19 earlier. He was required to sit out due to COVID-19 protocols.  
Dallas Cowboys thwarted in week 1 but made definite improvements on the defensive side.
The Dallas Cowboys thwarted in week 1 and they have made definite improvements on the defensive side of the ball. They were able to make plays that resulted in points for the Cowboys. As the season rolls on, it's likely that more big plays will contribute to more turnovers and points for the Cowboys. The team is gaining confidence as they work together and challenge one another to work harder in practice. 
The Cowboys travel to California to take on the Los Angeles Chargers on September 19, 2021 for the second game of the season.