By Tex.org contributor Cindy Downs
Roster changes reflect Dallas Cowboys plan of attack for 2021 season. The Dallas Cowboys have reduced their roster to the 53 player limit. Twenty-four players were sent on their way including two quarterbacks that had been battling for the backup position behind Prescott. Ben DiNucci was waived and Garrett Gilbert was released without waivers. Dak Prescott's backup quarterback has been named, and Cooper Rush has officially won the battle for the backup spot. He started in the preseason game against Jacksonville after his outstanding performance against Houston. 
After being cut from the 53-man roster, Ben DiNucci was signed to the practice squad. During training camp, Garrett Gilbert had plenty of chances to lead the Cowboys into the end zone, but he didn't have a scoring drive until he threw the touchdown pass in the preseason game against Jacksonville.  For the Cowboys, Gilbert's touchdown pass wasn't enough to keep him on the roster.
The Cowboys have been watching to see who is available after being waived from other teams around the league and have snatched available talent. Cam Newton will not be joining the Dallas Cowboys after being released from the New England Patriots. Instead, they selected Will Grier who was released from the Carolina Panthers. 
Grier's passing ability makes him valuable asset for the Dallas Cowboys
Will Grier is a young quarterback from West Virginia. During the 2019 draft, he was chosen in the third round.  Grier played one college season in Gainesville under current Cowboys quarterbacks coach Doug Nussmeier. Grier was a national record setter as a high school player in North Carolina. As a junior, he passed for 837 yards and had 10 touchdown passes to break his own state record. He also set records at West Virginia University. Grier's proven passing ability makes him a very valuable asset for the Cowboys.
Roster Changes Reflect Cowboys Plan of Attack with Cory Clement. Giants released Corey Clement, and it didn't take long for the Cowboys to sign him. Clement will be working on special teams. Clement has focused his running back career on special teams. He has limited his numbers and playing time on the field, but he has earned a Super Bowl ring for his efforts.
Two players are still on the COVID-19/Reserve list. Those players are Connor Williams and Noah Brown. Brown was recently added to the COVID-19 list. CeeDee Lamb and Damontae Kazee have been cleared from the COVID-19 protocol and returned to practice on Thursday.  
Dallas Cowboys allowed players to change jersey numbers
Neville Gallimore, Sean McKeon, and Josh Ball were on the current roster early in the week. Gallimore was added back to the Injured List. Kelvin Joseph is also on the Injured List. With these players on injury status, there is a possibility that the released veteran players will be added back to the roster. 
Roster Changes Reflect Cowboys Plan of Attack in another way. Thursday, September 2, 2021, the Dallas Cowboys allowed players to change jersey numbers. The NFL relaxed its rules on single-digit jersey numbers being worn. Trevon Diggs picked up the number 7 that Ben DiNucci left behind when he was waived. Diggs wore that same jersey number during his college career at Alabama.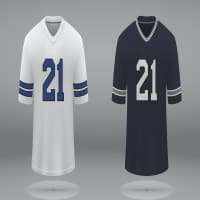 After Diggs left the number 27 behind, Safety Jayron Kearse opted to wear that number during this season. Jabril Cox will wear the number 14. Nahshon Wright's jersey will change from 40 to 25. Osa Odighizuwa has changed his jersey number from 75 to 97. Azur Kamara will be wearing the legendary number 54.
The new season gets underway in Tampa Bay on Thursday, September 9.