How to get a motorcycle license in Texas
You need a Class M license to drive a motorcycle or a scooter in Texas. First, you must be a Texas resident. Good news for you is that you can apply for a motorcycle endorsement if you already have a Texas Driver's license. However, to get only a motorcycle license, Texas resident's must take a Texas DMV approved driver's eduction course.
First, you will need to get a Texas motorcycle license permit from the Department of Motor Vehicles (DMV). To do this, you must be at least 15 years old, possess a valid driver's license and pass a knowledge test. The best way to prepare for the knowledge test is to study the Texas Motorcycle Operator's Manual, which can be found on the Texas DMV's website.
The Texas Department of Safety (DPS) requires you to complete an approved motorcycle safety class. Your certificate of completion is good for 24 months. The approved course includes motorcycle skills training with students driving. You will earn a Motorcycle Safety Course certificate called MSB-8 or MSB8-R.
Take a motorcycle safety course approved by the Texas DMV
All individuals applying for a Class M driver license must complete an approved motorcycle safety course, unless they already possess a valid license from another state.
Motorcycle Safety Courses in Texas
The completion certificate is only valid for 24 months.
Minors aged 15-17 must either :
– Have a Class C learner license and have completed the 32 hour classroom phase of a driver education course
– Present a certificate of completion of the classroom phase (32 hours) of a driver education course
– Or possess a provisional driver license in order to enroll in the motorcycle safety course
ONCE you have passed the knowledge test, you will be granted a motorcycle license permit. This permit is valid for two years and allows you to practice driving under the supervision of a qualified motorcyclist. You must also complete a Motorcycle Safety Course, approved by the Texas DMV, before you can apply for a motorcycle license.
This involves submitting the required application form and fee to the DMV. You will also need to take a vision test and a road skills test on the day of your license application.
To help you prepare for the road skills test, the Texas DMV provides a Motorcycle Operator's Manual and Practice Tests. These resources will help you understand the rules of the road and the maneuvers you need to pass the test.
What is the price of a motorcycle license on Texas DPS?
The cost of a motorcycle license in Texas is $16. You will also need to pay a fee for the written knowledge test and road test, as well as for any additional tests you need to take. You may be required to pay additional fees for the Motorcycle Safety Course and other related services.
Texas is a big state – A BIG STATE! Getting your class M license will help you discover miles of incredible roads.  
What is the cost of a motorcycle safety course in Texas?
The cost of a Motorcycle Safety Course in Texas varies depending on the course provider. Generally, the cost of a course ranges from $25 to $125, not including additional fees for materials and exams.
Is it illegal to drive a motorcycle without a helmet in Texas?
Yes, it is illegal to drive a motorcycle without a helmet in Texas. Texas law requires all motorcyclists and their passengers to wear a helmet that meets the standards set forth in the Texas Transportation Code. Failure to wear a helmet can result in a fine and/or points on your driving record.
Class M Motorcycle License Test in Texas
1.) First, the applicant must have a regular state drivers license.  Those without a regular drivers license can still apply for a Motorcycle 'Class M' License. However, you will need to meet the requirements of a regular Texas driver's license first.
Class M License Fee in Texas
Finally, the application also attracts a fee. The fees vary depending on the type of license required.  A new Class M license costs the applicant around $25. The learner permit can cost much less.  Again, getting your motorcycle license in Texas really isn't that hard if you simply follow the above steps.  Safely operating a motorcycle on Texas highways can be a fun and rewarding experience.  
Those who choose a motorcycle on those warm days will achieve incredible gas mileage and savings.  So, if you're looking at saving some money, a motorcycle may be just the ticket.  You'll want to be sure to wear your protective gear as you troll around Texas highways. Stay vigilant.  Remember to never operate a motorcycle while under the influence of drugs or alcohol.
The applicant must pass two tests.
Application for Class M License in Texas
Now you are ready to apply for your class m motorcycle license in Texas.  All applications are made in person at one of the drivers license offices found throughout Texas.  Additional requirements include providing approved identification (for example a passport and birth certificate), a completed application form and proof of registration and insurance for any vehicle registered in the driver's name.
2.) Pass a motorcycle safety course. Once you've done that, you'll need to go to your local Department of Public Safety office and apply for a motorcycle license.
Texas Department of Public Safety (DPS) approved safety course 
Secondly, you must  pass a Texas Department of Public Safety (DPS) approved Safety Course.  When applying for the Class M license, the applicant must provide the original certificate of completion obtained at the course as proof of qualification.  The DPS (Department of Public Safety) approved safety courses are provided throughout the state by qualified driving schools.
The most popular Texas motorcycle safety course is the Basic RiderCourse offered by the Motorcycle Safety Foundation. This course provides riders with the basic skills and knowledge needed to operate a motorcycle safely and confidently on public roads. It includes classroom instruction, range exercises, and an optional road ride.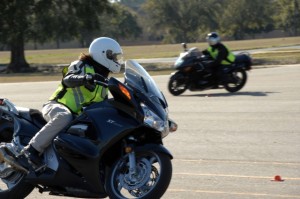 The above requirement is waived if the applicant has a valid motorcycle license from a state other than Texas.
For those aged over 15 and under 18, the requirements to get your motorcycle are a little more strenuous.  The applicant needs to hold a 'Class C' drivers license or learners permit license.  In addition, the applicant needs to complete the classroom phase of the driver education course. The classroom portion is a prerequisite to complete the motorcycle safety course.
3.) Bring your motorcycle safety course completion certificate as well as your current driver's license.
4.) You'll also need to take a written motorcycle knowledge test and a skills test.
Test 1 is in two parts:  The Knowledge Test covers basic, general driving knowledge. Motorcycle specific knowledge test is also required.  Both tests are pass or fail. You must pass for the application to continue.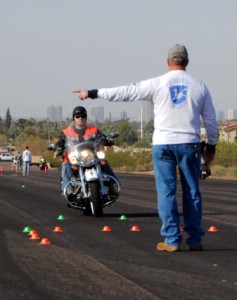 Test 2 is a practical motorcycle riding examination.  They waive this part of the test if the applicant is over 18 and already has a regular drivers license. They also waive if you apply for a learner permit license. The same is true if you are only riding a MOPED.  
Once you have your motorcycle license, you're ready to hit the open road! Just be sure to always ride safely and wear proper protective gear. Enjoy the ride!
Motorcycle Safety Course Video
This video gives anyone planning on taking the course a way to learn how to get your motorcycle license in Texas. It is a good idea of what to expect.
The classroom provides useful information and feedback on several real-world situations. The riding portion is very helpful for anyone learning to better their riding techniques and decision making.
Motorcycle and ATV Safety Program Update
Senate Bill 616 of the 86th Texas Legislature transferred the Motorcycle & ATV Safety program from the Texas Department of Public Safety to the Texas Department of Licensing and Regulation (TDLR). To stay up to date with recent developments, TDLR offers email notifications which can be subscribed to on their website.
The Texas Department of Licensing and Regulation (TDLR) provides a website to stay informed on motorcycle and ATV operator safety. To receive notifications of updates on laws, rules, and other important notices, sign up for email notifications at https://public.govdelivery.com/accounts/TXDLR/subscriber/new.
On the TDLR website, you can find information on completing the Motorcycle Operator Training Course and operating motor vehicles safely. The website also provides a list of approved training schools in Texas for motorcycle and ATV operation. Additionally, licensed instructors are available to apply for an instructor license or renew their current license. For more details on requirements and fees, visit the website.
Spend money on motorcycle license in Texas: save your gas money in Texas
If you're looking for a way to save money on your transportation costs, getting your motorcycle license in Texas is the way to go. With gas prices on the rise, it's becoming increasingly important for drivers to find ways to cut down on their expenses. And what could be more cost-effective than riding your bike?
Not only will you be able to avoid shelling out big bucks at the pump, but you'll also get some exercise in while you're at it! So what are you waiting for? Start studying for that Motorcycle License today and see how much money you can save.