By Tex.Org contributor Cindy Downs
Illness and Injury hassle the Dallas Cowboys. Injury came calling to the Dallas Cowboys' practice field on Wednesday, September 15, 2021. This time injury found a player and a coach. The defensive line took a hit when Demarcus Lawrence and Leon Lett were carted off during practice. 
 Illness and injury hassles the Dallas Cowboy Demarcus Lawrence. He will not be available for the Week 2 game against the Chargers, and he is listed as out indefinitely. Lawrence's injury to his foot happened in a pass rush play during practice. An MRI revealed the break.
Demarcus Lawrence's foot injury will require surgery to repair his broken fifth-metatarsal. If his foot heals properly, he should be able to get back in the game during November after six weeks of recovery. Lawrence has just recently recovered from offseason back surgery. He was active during the season opener against the Buccaneers, and his presence on the field will be missed. He forced a fumble and logged six tackles and pressured the quarterback twice. Unfortunately, this is not Lawrence's first go round with a sidelining injury. During his rookie season in 2014, he suffered an injury that caused him to sit until November 2.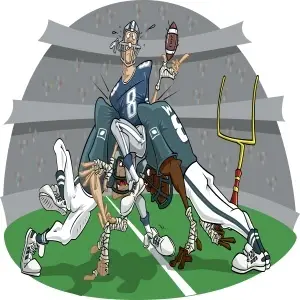 Dorance Armstrong to fill in for Lawrence
Dorance Armstrong will be called on to fill in for Lawrence. He recorded two tackles against Tampa Bay. Tarell Basham will also accrue playing time.  Basham equaled Armstrong's two tackles during Week 1. They will likely have opportunities to rack up more tackles during the Week 2 matchup against the Chargers. 
Chauncey Golston may see playing time against the Chargers. He is a 2021 third round draft pick who missed all of training camp due to a hamstring injury. He did not play during Week 1. 
The assistant defensive line coach Leon Lett was injured during practice on Wednesday. He left the field on crutches. His right knee injury will require surgery also. Lett was a part of the three Cowboys Super Bowl teams in the 1990s and suited up for the Cowboy for a decade as a defensive tackle. He has been a member of the coaching staff since 2011. 
Dallas Cowboys Darian Thompson on injured list
Darian Thompson is another Dallas Cowboy on the injured list. His hamstring injury will keep him sidelined during Week 2. The depth chart will be tested, and the rookie Israel Mukuamu may get his first opportunity to make plays as an NFL player. Thompson's backup is Donovan Wilson, but he is likely to be sidelined again with a sore groin. Wilson was troubled by the groin injury during training camp, but he logged playing time during the season opener. Wilson was on the field for 55 plays, and Coach McCarthy is taking precautions to prevent reinjury.
Randy Gregory is sidelined for Week 2 also. He was added to the COVID-19 list on Monday and will likely be out for 10 days. Gregory tested positive for COVID-19. He is asymptomatic at this time, but he must test negative twice consecutively to be released from the list. Gregory recorded a fumble recovery and a tackle against the Buccaneers.
The Dallas Defense will be put to the test by the Chargers' offense. The Cowboys may rely on the offense to produce points and stay on the field to help offset the injury hit to the defensive line as they take on the Los Angeles Chargers on Sunday, September 19.