#1 Austin, TX, population 964,254
First, one of the five can't miss road trips from Dallas is to Austin. No Texas road trip is complete without spending time in Austin. You can go to Austin a dozen times and find something new to experience. If nightlife and live music is your thing, head down to sixth street after dark. Lined with bars featuring live music and dancing, folks generally stop for a drink or a bite to eat at one location, and on to the next until they're at the other end of the street and the night is over.
Most importantly, Austin's music scene is unique, with its own distinct sound. Heavy influences of Willie Nelson and Stevie Ray Vaughan echo in the guitar strings that will escort you down the strip. 
Speaking of Willie Nelson, take a short walk over to the new Austin City Limits studios and take a few moments to appreciate the bronze statue of the most popular Texan alive.
Drive Time: Around 3 hours, based on time of day.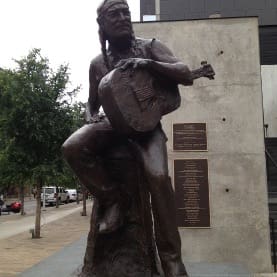 Austin's Food Scene
As a matter of fact, Austin's food scene is as legendary as the music and nightlife. It's worth a whole trip just wandering around the city, eating and people watching – but there are so many more things to do. The Bullock Museum of Texas History located a few blocks away from the Texas State Capitol, features stunning architecture, high-quality curated exhibits and a really fun gift shop. Alright, lets talk bats. Not baseball – stay in Dallas or head on down to Houston for that.
To be specific, I'm talking about Mexican free-tailed bats. In 1980, the city turned the Congress Ave Bridge into a bat cave, to take advantage of the natural insect control. It worked – these bats eat up to 30,000 lbs of insects every year. From around March to November, people line up all around the Congress Ave bridge at dusk and wait to see as many as 1.5 million bats emerge from under the bridge. This is a spectacular sight that you will want to go back and see again and again as part of the five can't miss road trips from Dallas annual resolution. It is as unique as the city. 
Before you head out of town on the legendary five can't miss road trips from Dallas, take a gander down to the Barton Springs Pool and swim in spring-fed water that is constantly around 70 degrees. In the hot Texas summers, the cool water is irresistable. The more time you spend in Austin, the more unique, fun things to do you'll find.
Related: 6 things to do indoors in Austin Texas
Related: Art Classes and Workshops in Austin Texas
#2 Georgetown, TX, population 74,180
Drive time: 2 hr, 45 minutes
Second, Georgetown is a great destination that a lot of Texans overlook. Don't discount the charm of a little city that tries so hard to make sure you have a great time while you're there. They've got fantastic shopping on top of fun things to do.
First, check out Inner Space Cavern. In the 1960s, a Texas Highway crew accidentally discovered this ancient cave while they were building the highway. Ever since, generations of Texans have driven down I-35 seeing billboard after billboard for the great caves. "Hidden for 10,000 years!" they loudly proclaim. It is the most remembered of the five can't miss road trips from Dallas.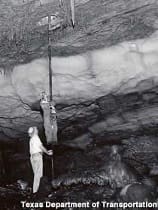 The tour is about an hour long. Dress casual, as there are natural springs running somewhere above that drip from time to time. The cave holds its temperature at about 75 degrees year round so it's a way to get exercise in nature in the hot summers of Texas that offers some relief from the heat and some wonder.
Before you head out of town, check out the Georgetown shopping scene and stop for some local wine at the Georgetown Winery and Vineyard.
#3 Fort Worth, TX, population 942,343
Drive time: 45 minutes
Third, hear me out, y'all. Most people from outside of town think that Dallas and Fort Worth share a border because they share an airport. In reality, Fort Worth is a sixty mile drive from Dallas, and that, my friends, is what I call a road trip. 

To be clear, even if you've been to Fort Worth before, there is more to see and it is exciting. First of all, Fort Worth has one of the most beautiful downtowns I have ever laid eyes on. Beautiful historic buildings tower over attractions like the Fort Worth Water Gardens which makes this leg of the trip a beautiful and memorable part of the five can't miss road trips from Dallas.
Lets not forget that the Fort Worth Zoo is the best zoo in the country. Don't take my word for it. USA Today is the one that made the claim. Not far from the Zoo are the stunning Fort Worth Botanical Gardens.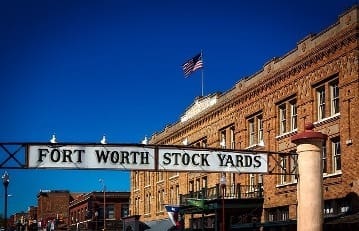 Of course, the Stockyards are a must see. You'll see a cattle drive, there's a Cowboy Hall of Fame, and you get to experience the exact point where the west begins. For out of towners, go ahead and stop at Cavenders for some real western wear, and go two-stepping at Billy Bob's. It's a truly unique experience.
#4 Mineral Wells, TX, population 15,096
Drive time: 1 hr. 21 minutes
Fourth, a favorite of the five can't miss road trips from Dallas is Mineral Wells. It is a beautiful town just east of Fort Worth. It is a short day trip so you can relax and take your time. First up, you'll want to head to the Mineral Wells Fossil Park. Once an old gravel pit, the city realized it was sitting on top of an almost unknowable number of fossils that are as much as 300 million years old. These fossils lay where was once a sea bed, long before Texas emerged from the water.
In addition, what makes this park special is that anyone can dig for fossils and keep what they find. There are all sorts of aquatic animal and plant fossils. Tourists of any age can stop in any time between 8 am and  dusk on the weekends – admission is free.
If you have some more time before you leave, head over to Mineral Wells State Park and take in some nature views that are unforgettable. Note: Some of the terrain is difficult. Drink some of the legendary Mineral Wells water while you're in town, as well. Legend says the waters of Mineral Wells are restorative and healing. 
#5 Bellville, TX, pop. 4232
Drive Time: 3 hr. 35 minutes
Finally, one of the most unique of the five can't miss road trips from Dallas is Bellville, TX. It is a small town with an attraction of great and unusual interest. I'm not sure you can really find something like this anywhere else in America, much less Texas. A real castle. Mike Newman, a local business owner, got it in his head that he'd buy a big piece of land in the middle of rural Bellville and build a real life, medieval style castle – and he sure did it.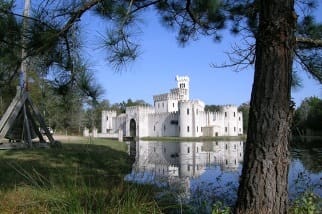 In Texas fashion, the castle, custom designed and built of cinderblock, is set back off a rural road, and consists of a moat, a keep, a great hall, a bell tower, a guard tower, a drawbridge and a human sized hampster-wheel called a portcullis that draws it open and closed. The tour includes some fun demonstrations using a giant catapult, and two Irish Wolfhounds.
Likewise, there are also a certain number of toy rats placed around the castle for the children to find. Children that claim to have found all of them are given a prize when, at the end of the tour, lunch is provided in the kitchen with fresh baked pastries and sandwiches from Mr. Newman's bakery. This gives you the most bragging rights of the five can't miss road trips from Dallas.
Tickets to Newman's Castle
Ticket information: Newman's Castle | Medieval treats and good eats!
Tip: Because it is Mr. Newman's actual residence, you have to first go to his bakery in town to purchase tickets. There, they give you the address and directions and you're headed on your way. The tours are capped at around fifty people, and they run every thirty minutes. 
After the tour, stop at the giant statue of Stephen F. Austin's noggin and give geocaching a try. Visit www.geocaching.com to search for it when you stop at the statue. Geocaching can always add a little extra adventure to any road trip. There is free parking right next to the statue.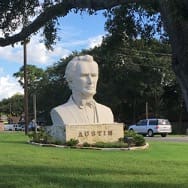 That's not all, y'all. The castle is only half of this day trip.
To conclude, when you head back up to Dallas, you can drive up through Brenham, TX and tour the Blue Bell Ice Cream Factory, or drive up through Waco and check out Chip & Johanna Gaines Magnolia Empire.
By Kelly Haynes. Haynes is a lifelong Texan, a lover of travel and all things Texas.